The validation of an automated self-cleaning process in a new robot for the preparation of cytotoxic drugs
2 octobre 2014
María José Tamés1, Gerardo Cajaraville Ordoñana1, Laurence Goldberg2
1 Pharmacy Department, Onkologikoa, San Sebastián, Spain
2 Pharmaceutical Consultancy, Manchester, United Kingdom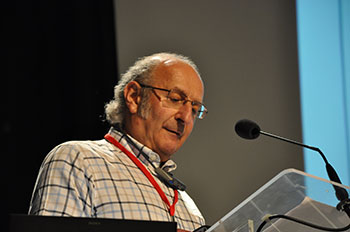 Kiro Robotics has developed an automated, self-cleaning process for a second-generation compounding robot. Sterile alkaline detergent solution is sprayed into the working area for a predetermined time, followed by a sterile water rinsing spray. Compatible, sterile disinfectants can also be incorporated into the cleaning cycle. The working area is then dried by means of the air flowing through HEPA filters. No external heat is applied.
The aim of this study was to validate the cleaning process. Wipe samples were collected from three representative surfaces in the cabinet – close to the reconstitution area, close to the filling area and on the internal balance.
Sample collection took place at the end of the production run on five working days when a mean of 30 (SD ± 10) injections per day were compounded. The process was repeated after completion of the self-cleaning cycle. Samples were analysed for paclitaxel, 5-fluorouracil and cyclophosphamide.
Before the cleaning cycle, levels of all three drugs were detectable on the surface of the internal balance but not in the other two areas. After the cleaning cycle levels of all three drugs on the surface of the internal balance were below 1ng/cm2.
A manual cleaning process in a traditional biological safety cabinet or isolator takes a member of staff up to 20 minutes. It is difficult to remove chemical contamination efficiently using this method. Manual cleaning of a robot presents even greater difficulties as it is impossible to reach all potentially-contaminated areas.
The automated, self-cleaning process in the Kiro Oncology Robot efficiently reduces the levels of chemical contamination to less than 1ng/cm2 for the marker drugs.