Contrôles microbiologiques de l'environnement (air et surfaces)
P. Simmons Calderdale & Huddersfield NHS Foundation Trust, UK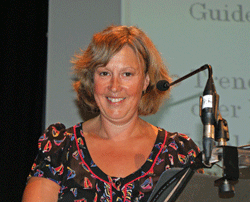 In principal British NHS manufacturing and aseptic units follow the guidance given in the EU Guidance on Good Manufacturing Practice1 ("The Orange Guide"). A further reference is the Quality Assurance of Aseptic Preparation Services2 which is widely used within the NHS. However the interpretation of this guidance as it applies to a very diverse range of facilities from large scale manufacturing units to small aseptic preparation laboratories does present challenges.
The range of microbiological monitoring includes the following ;
Settle plates left open for a session up to 4 hours or the results normalised for a four hour exposure period.
Contact plates.
Surface swabs.
Finger dabs.
Airborne monitoring using commercially available sampling pumps and the results normalised to cfu/m3.
Validation of materials transfer, particularly in aseptic units.
Speciation of microorganisms recovered from plates etc.
Monitoring frequencies can vary, but a rough guide is given below ;
1. Each working session for critical work zones (EU Class A)
Settle plates
Finger dabs
2. Weekly ;
Clean room settle plates
Clean room contact plates
Clean room swabs
3. Monthly/3 monthly more intensive monitoring with ;
Settle plates, contact plates and swabs.
4. Active air sampling
Practice varies widely from weekly use in critical work-zones and clean rooms to 3 monthly monitoring of these areas.
Monitoring of particular validation exercises e.g. broth fills.
Interpretation of results
In general the limits given in the Annex 1 to the Orange Guide are followed. In addition MHRA inspection guidance has indicated that an overall microbial contamination level in aseptic units should be less than 5% of all samples from critical work-zones (good units should certainly be achieving 1-2% or less). Trending of low levels of microbial contamination presents particular challenges and there is currently no specific guidance on how this is to be managed.