Workshop 3: Dose standardisation of cytotoxics
2 October 2013
Moderators : L. Escalup, G. Podilsky, N. Jourdan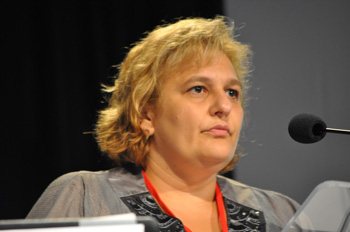 Moderators: L. Escalup, Institut Curie, Paris - G. Podilsky, CHUV Lausanne - N. Jourdan, Hôpital Saint Louis, APHP-Paris
The standardization of doses, also called "dose banding", is a concept developed in Great Britain in 2000's. This concept, which has been implemented in a number of European countries for several years, means that a standard dose of cytotoxic is prescribed for a predefined interval (or a band) of body surface areas.
The objective of this workshop is to reflect together on a method for implementation of "dose banding" for units that prepare cytotoxics and desire to apply this standardization technique.
After a brief recap of the concept and the clinical rationale for employing it, we will analyze different stages by arguing about accordance to the existing legal regulations, the means for implementation, the active process from the prescription to the administration, etc. ... We will build the discussion on existing experiences and on reflections that candidate institutions have when establishing such standardization.
As a conclusion of this interactive workshop, we would like to produce a document to guide all candidate institutions in the implementation of a "dose banding".
Restitution