The use of capillary eletrophoresis for the anticancer drugs analysis in chemotherapies produced by a hospital pharmacy
24 October 2018
Nicolas Guichard1,2, Marie Ogereau1, Ludivine Falaschi1, Serge Rudaz2, Julie Schappler2, Pascal Bonnabry1,2, Sandrine Fleury-Souverain2
1 Pharmacy, Geneva University Hospital, Geneva, Switzerland
2 School of pharmacy, Geneva University, Lausanne University, Geneva, Switzerland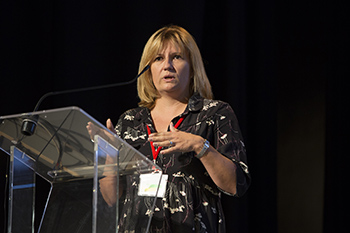 Objective
Given their high toxicity combined with their narrow therapeutic range, chemotherapies are considered as high risk pharmaceutical formulations. Among the different controls applied in hospital pharmacies (gravimetric control, automation…), the analysis of produced formulations is a relevant option to secure the chemotherapy production.
Methods
In this work, two methods using capillary electrohoresis (CE) were developed and validated for the analysis of 16 anticancer drugs in pharmaceutical formulations. A CE method coupled to UV detection using a 100 mM phosphate buffer at pH 2.5 containing 50% of acetonitrile and a dynamic coating of capillaries allowed the determination of doxorubicin, epirubicin, idarubicin, daunorubicin, irinotecan, topotecan, vincristine, vinblastine, vindesine and vinorelbine in less than 8 min. Methotrexate, pemetrexed, etoposide, etoposide phosphate, fludarabine phosphate and 5 fluorouracil were analysed in 16 min by another CE method based on micellar electrokinetic chromatography (MEKC) coupled to UV detection. This method used borate buffer at pH 9.2 containing 80 mM of sodium dodecyl sulfate and 20% of acetonitrile. For both developed methods, a voltage of 30 kV and an hydrodynamic injection mode were applied.
Results
Both methods were validated : trueness values between 99.4 and 101.3% were obtained with repeatability and intermediate precision values of 0.5-1.8% for all compounds. They were successfully applied for the analysis of chemotherapies produced by an hospital pharmacy.
Discussion-conclusion
CE appeared as an analytical tool especially well suitable to the analysis of anticancer drugs contained in pharmaceutical formulations because of small sample volume required (< 500 L), the limited volume of toxic waste generated (a few mL) and the analyst's reduced exposure to toxic substances (closed system).
Watch the video in simultaneous translation