Stability of etoposide solutions in disposable infusion devices type Intermate®
Alison Klasen1, 3, Romain Kessari2, Lionel Mercier2, 3, Cyril Valade2, Romain Desmaris2, Angelo Paci2, 3 1 Département de Biologie et Pathologie médicales. IGR, 114, rue Edouard Vaillant - 94805
VILLEJUIF Cedex, France.
2 Département de Pharmacie Clinique. IGR, 114, rue Edouard Vaillant - 94805 VILLEJUIF Cedex, France.
3 Service Interdépartemental de Pharmacologie et d'Analyse du Médicament. IGR, 114, rue Edouard Vaillant - 94805 VILLEJUIF Cedex, France.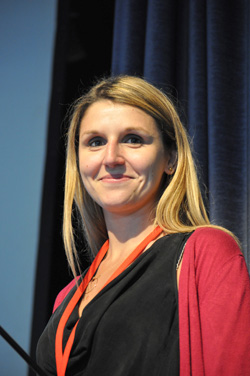 In a context of day hospital a cancer care centre, some chemotherapies can be delivered using disposable infusion devices (DP). Our administration constraints require a 6h period of stability. In this context and in order to improve patient comfort, a stability study of etoposide (VP16) solution was conducted. The objective was to insure that the stability of VP16 was sufficient for this purpose.
We studied the stability of VP16 in solution in 0.9% NaCl and D5W over 24 hours, in Intermate® DP at 3 different concentrations (100, 400 and 600 mg/L), stored at 25°C (TA) and 33°C. The methodology consisted in the monitoring of the active substance concentration's evolution using high performance liquid chromatography combined to UV spectrophotometric detection. This method allowed monitoring the rise of possible degradation products. The solution was considered stable if the concentration does not differ +/- 5% from the initial concentration.
At a concentration of 100mg/L, the solution was stable for 24 hours in 0.9% NaCl and 12 hours in the D5W at RT and 33°C; at 400mg/L, the stability was 24 hours in two solvents at RT and 33°C; at 600mg/L, the stability was 8 hours at RT and 6 hours at 33°C, in both diluents. A forced degradation study showed that the VP16 concentration decrease was due to a precipitation phenomenon.
The study demonstrates a sufficient stability of VP16 in these conditions. Etoposide could be now administered in these devices for a pediatric use in day hospital context.