Round table: Advanced Therapy Medicinal Products (ATMPs)
4 October 2018
Moderator Pr S. Crauste-Manciet, CHU Bordeaux
Dr L. Escalup, Institut Curie, Paris, France
Pr P. Odou, CHRU Lille, France
Dr I. Madelaine, CHU Saint-Louis, Paris, France
Dr A. Black, Hôpital Newcastle, UK
Dr C. Bernard, CHU Pitié-Salpêtrière, Paris, France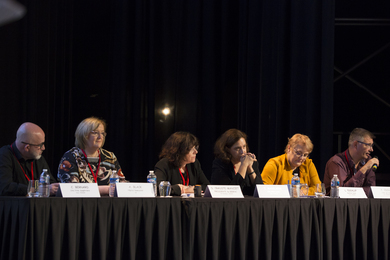 The development of Advanced Therapy Medicinal Products (ATMPs), including cell and gene therapy, began in the 1990s with early successes such as the treatment of X-linked SCID in Necker University Hospital in Paris, France. In 2003, ATMPs obtained a first drug status at the European level. In 2007, Europe created the new type of medicine called ATMPs to face scientific, medical and biotechnological progress, giving them a regulatory framework (regulation EC 1394/2007), to facilitate their development, their marketing, and to make their provision and use safer for patients. From that date, ATMPs were classified in 4 categories:
Gene Therapy Drugs;
Drugs of somatic cell therapy;
Tissue engineering products;
Innovative therapy drugs combined.
England and France present different management methods for these new medicines both in the context of biomedical research and their commercialization.
From the point of pharmaceutical technology, these new drugs to which most of the pharmaceutical standards apply have nowadays some specificities (e.g. GMO, cryopreservation) and particularity (e.g. active substance in most of the case are non-sterile raw material introduced in a controlled area for aseptic compounding to produce a drug that is administered via parenteral route) which led the regulators to draft specific GMP guidelines for ATMPs.
These new drugs represent new challenges for hospital pharmacists from pharmaceutical technology departments, who must innovate to adapt their practices and develop specific training programs.
Watch the video in simultaneous translation