Ready-to-use syringes of melphalan: a race against time
6 October 2017
A. Feka1,2, L. Berger1, C. Fauchère1,2, G. Podilsky1, F. Sadeghipour1,2
1 Lausanne University Hospital (CHUV), 46 Bugnon Street, 1011 Lausanne, Switzerland
2 School of Pharmaceutical Sciences, University of Geneva, University of Lausanne, Geneva, Switzerland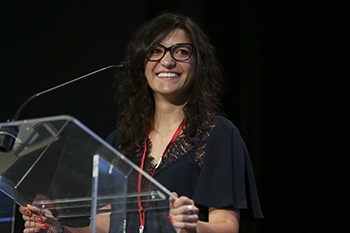 Introduction
Intravitreal injection of melphalan is being increasingly used in the treatment of retinoblastoma. The therapeutic concentrations of melphalan solutions (15 and 200 ìg/mL) are stable only for 3 hours at 2-8 °C. Nevertheless, recent studies showed that fast freezing of the injection solution (-18 °C) increases this stability. The aim of this work is to optimize the preparation procedure of ready-to-use (RTU) melphalan syringes, in order to improve the stability after freezing at -18 °C.
Material and Methods
The melphalan is prepared with 10 mL of the original reconstitution solution and then diluted once with a NaCl 0.9% solution preliminarily chilled, in order to obtain the final required concentration (n = 3). Twenty polypropylene syringes are filled with 1 mL, freezed with dry ice and then transferred to the freezer. Three syringes of each batch are analyzed by a validated HPLC-DAD method at t0.
Results
For 200 ìg/mL and 15 ìg/mL syringes, melphalan concentrations after 5 weeks at -18°C were respectively 96.2 ± 2.2% and 94.4 ± 5.4%. For one of the three 15 ìg/mL batches, the average concentration was only 88 %.
Discussion et conclusions
These first results permitted to prove a 5 weeks stability of melphalan RTU syringes at 15 ìg/mL and 200 ìg/mL through a fast preparation and freezing procedure. The reasons of the low concentrations observed for one of the 15 ìg/mL batches need to be further investigated. Additional analyses will permit to determine the stability of the RTU syringes at 8, 12 and 24 weeks.