Qualification of new pharmacotechnical operators
4 October 2013
A. Venet, M. Grouvel, C. Bedoucha, B. Roussely, A. Jourand
Unité de préparation stérile - pharmacie,
CHU de Bordeaux Groupe Hospitalier Pellegrin,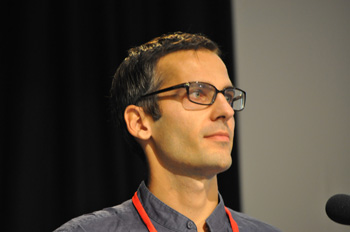 Introduction
The sterile preparation unit of the Pellegrin Hospital Group (Bordeaux) performs annually 23,000 sterile preparations divided into three areas: preparation of anticancer drugs, pediatric parenteral nutritions and ophthalmic preparations.
In April 2013, arrival in the team of a new operator was an opportunity to test the training program and to establish a theoretical and practical assessment system of new agents.
Materials and Methods
The process of qualification of the new operator was carried out in several steps:
Step 1: Completion of a questionnaire assessment of theoretical and practical knowledge necessary to work in controlled atmosphere area (dressing, regulatory requirement, anticancer drug, physiology premature ...)
Step 2: Delivery of a personalized training plan and referent trainers presentation by area.
Step 3: Practical and theoretical training itself.
Step 4: The final evaluation was characterized by:
The implementation of Aseptic Media-Fill Test simulating the production of 10 parenteral nutrition bags with the controller EM2400,
realization of chemotherapy measuring accuracy and repeatability of preparations concentration made by spectrophotometry UV / IR,
And realization of knowledge final test in the form of a questionnaire.
Results
No parenteral nutrition preparation has proved positive in the Mediafill Test. The average error rate was 4.5 % (against 3.5% for the evaluator) for accuracy testing and 6% for the repeatability test. The final score of the evaluation questionnaire was 15/20.
Conclusion
The new operator is qualified to work in the sterile preparation unit. Although this qualification is a good tool for evaluating agents, it does not provide the perfect autonomy of preparers during their beginnings. In service training is essential in a sterile production unit.