Occupational exposure of nurses to cytotoxic agents: Preliminary results of a comparative assessment of two administration devices
24 October 2018
Bastien Raymond, Marion Hugues, Agnes Macé, Sandrine Menguy, Fabien Forges, Xavier Simoens
Institut de Cancérologie Lucien Neuwirth, St Etienne, France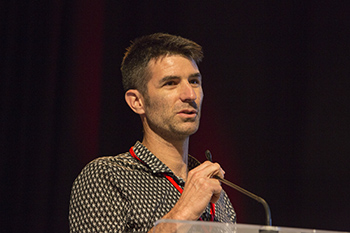 Introduction
Despite the increasing control of environmental contamination throughout the anticancer drug circuit, the administration of chemotherapy remains a stage at risk of occupational exposure for nurses. There are several Medical Devices (DMs) for securing the administration but none has been scientifically assessed to verify the real improvement in security.
Material and methods
A monocentric comparative before / after study was initiated in an oncology day hospital. The objective was to evaluate the effectiveness of an infusion device (called "infusion tree") in reducing cytotoxic exposure compared to usual perfusion practices (neutral solvent-purged infusers). The rate of gloves contaminated by at least one anticancer drug during the entire course administered by nurses was estimated. The eligible protocols must contain one of the 10 drugs of a panel identified with HPLC-MS method, particularly cyclophosphamide (CPM) and pemetrexed (PMX) which have high therapeutic concentrations, and at least one disconnection step. The other molecules sought were docetaxel, paclitaxel, irinotecan, ifosfamide, methotrexate, etoposide, vinblastine and topotecan. In order to validate the gloves extraction, each batch of gloves was contaminated with a drop of topotecan at 1 mg / ml. This product was not administered in the day hospital. The number of samples needed to demonstrate a 70% reduction in contamination was 60 per period. A qualitative analysis was also carried out.
Results
The preliminary results of the before phase show a contamination rate of the gloves of 58%. For the 60 samples included, 190 pairs of gloves were analyzed. All were positive to topotecan. For 58% and 66% of the gloves that handled CPM or PMX respectively, this molecule was detected. On the other hand, no traces of docetaxel were detected on the 25 samples having handled. Finally, no other molecules have been detected.
Discussion
Despite the current practice of using neutral solvent-purged infusers, the exposure of nurses remains high. These results seem to show that the disconnection of the bags is the critical step. Indeed, CPM and PMX were systematically disconnected in the protocols included while docetaxel was not. The absence of traces of unmanipulated drugs on the gloves seems to confirm the good control of environmental contamination to the administration. The infusion trees that allow to get rid of the disconnection step could significantly reduce the exposure. This will be assessed in the second phase of the study.
Watch the video in simultaneous translation