Multicenter study of the surface contamination with ten antineoplastics in 81 Canadian hospitals in 2017
6 October 2017
L. Chauchat1, C. Tanguay1, N. Caron2, S. Gagné2, F. Labrèche4, J-F. Bussières1,3
1 Unité de recherche en pratique pharmaceutique, département de pharmacie,CHU Sainte-Justine, Montréal, Québec
2 Centre de Toxicologie du Québec, Institut national de santé publique du Québec, Québec
3 Faculté de pharmacie, Université de Montréal, Montréal, Québec
4 Institut de recherche en santé et sécurité au travail, Montréal, Québec, Canada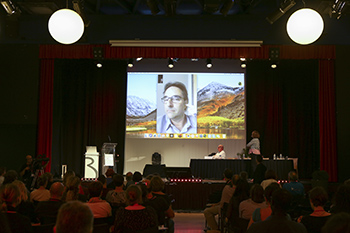 Introduction
Healthcare workers are exposed to antineoplastics, which may lead to adverse health effects. In order to reduce the possibility of exposure, surface contamination must be kept as low as reasonably achievable.
Objective
To perform environmental surveillance of work surfaces for 10 antineoplastic drugs in Canadian oncology pharmacies and health care units.
Methods
This is a cross-sectional descriptive study conducted in 2017. Twelve standardized sites (average area of 600 cm2) were sampled (six in pharmacy and six in patient care areas) and analyzed by ultra-performance liquid chromatography-tandem mass spectrometry. Seven antineoplastic drugs were quantified on each sample: cyclophosphamide (limit of detection 0.001 ng/cm²), cytarabine (0.04 ng/cm²), 5-fluorouracil (0.04 ng/cm²), gemcitabine (0.004 ng/cm²), ifosfamide (0.006 ng/cm²), irinotecan (0.003 ng/cm²) and methotrexate (0.002 ng/cm²). For three antineoplastic drugs, the analysis was qualitative (presence/absence): docetaxel (0.09 ng/cm²), paclitaxel (0.04 ng/cm²) and vinorelbine (0.004 ng/cm²). Preliminary descriptive analyses were performed.
Results
Among the 953 samples taken in 83 hospitals, 45% (429 samples/953) were positive for at least one antineoplastic drug: cyclophosphamide (36% positive samples), gemcitabine (11.8%), 5-fluorouracil (10.5%), methotrexate (6.6%), ifosfamide (4%), irinotecan (2.9%), cytarabine (1.3%), paclitaxel (0.5%), vinorelbine (0.4%) and docetaxel (0.1%). The three most contaminated sites were the arm rest of the administration chair (81.7%), the front grille of the hood for antineoplastic compounding (78.3%) and the floor in front of the hood (61.4%).
Conclusion
Traces of ten antineoplastic drugs were found on work surfaces of Canadian hospitals. Cyclophosphamide was the most frequently found antineoplastic drug, as found previously. The most contaminated sites tend to stay the same over the years. Regular environmental surveillance may help increase awareness among workers and employers and may help focus actions to lower surface contamination.