Feedback subscontracting experience in emergency of chemotherapy preparations
1 October 2014
Flavie Mouries, Sylvie Ferrari-Fernandez, Sandra Laclau, Georges Dumont, Jean-Yves Jomier
Unité pharmaceutique oncologique,
Centre Hospitalier de Pau, 4 Boulevard Hauterive
64000 PAU, France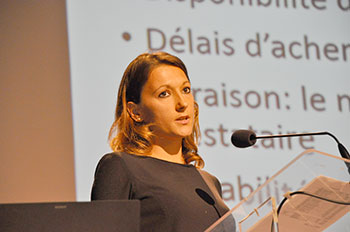 The practical necessity for a pharmaceutical service to cover in charge of the making of chemotherapy treatments for an external hospital complex on short notice has revealed the absence of a clear procedure on how to implement such process. The goal of this work is to describe the necessary steps building up to an emergency coverage of those preparations.
To do so, the pharmaceutical team, composed of pharmacists, managers and pharmaceutical assistants of the manufacturing Hospital Center (HC) has conducted an inventory of the technological and human capabilities of the department.
First, it has been determined 1) the amount of work stations dedicated to the preparation of chemotherapy treatments by isolator, 2) the volume of daily preparations that could be added to the initial activity, as well as 3) an inventory of schedule free gaps which could be dedicated to the supplementary operation.
Then it was led a reflection on how to implement the necessary computing exchanges/links with the demanding hospital as well as how to train generalist medical staff to pharmaceutical prescription software.
Then were raised problems related to : 1) logistics 2) temperature control and traceability during transportation 3) billing and communication of the fichcomp (i.e. the patient's unique file composed of administrative information and medical expenses related to his treatment) to the demanding hospital.
Such modification of the structure and organisation within the hospital pharmacy can only be achieve due to specific conditions : allocation of additional pharmaceutical assistants, use of medical tools from the manufacturing hospital, pre-defined duration of the temporary coverage.
This procedure was implemented so as to guaranty/ensure the stability of the quality of all services rendered by the manufacturing hospital.