Feedback after the implementation and the first three months production of an automated chemotherapy compounding system
24 October 2018
Romain HARNAY 1, Said RAMDANI1, Sabrina BEN EL KHEZNADJI1, Hayfa BOUZOUITA1, Romain DESMARIS1, Loretta MORICONI3 François LEMARE1,3, Malik BERHOUNE1
1 Département de pharmacie clinique, Gustave Roussy, 114 rue Edouard Vaillant 94800 Villejuif
2 Loccioni Group, Via Fiume 16, 60030 Angeli di Rosora, Ancona (Italie)
3 Laboratoire de Pharmacie Clinique, Faculté de pharmacie de Paris, Université Sorbonne Paris Cité, 4 Avenue de l'Observatoire, 75006 Paris,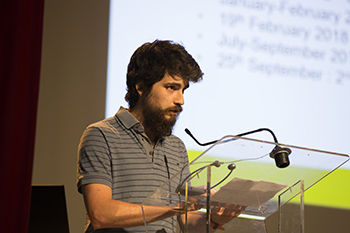 Introduction 
Facing a significant increase of the chemotherapy compounding activity, Clinical Pharmacy Department of Gustave Roussy will to secure the process and improve technicians working conditions led to purchase an APOTECAchemo® (Loccioni) robot. We present the qualification and first 3 months production outcomes.
Method
Three common steps have been followed for the qualification (IQ, OQ and PQ) which allowed us to confirm the sterility of the process through Media-Fill tests campaigns, validate the continuous particle count results and check the analytical conformity when dosing the preparations. Based on identified issues, we considered initially only ready to use drugs to compound. Fo each preparation, a gravimetric control is performed on drug volume withdrawn from the corresponding vials with a video identification of the drug and a continuous environment control by particular counting.
Perfusion sets are filled with solvent and manually connected to the IV bags before automated compounding.
Results
16 molecules are prepared on a routine setting among 20 molecules set for compounding. Progressive increase of the production (1 month ½) and the training of 4 technicians led us to implement an organization that allow us to reach a mean productivity of 14,5 preparations/h and a peak of 17,3 preparations/h, 3 655 preparations in 3 months activity and 108 preparations during one day. The average gap weight is -1,1%. Failure rate preparations is less than 1,5%.
Mean compounding duration per preparation is 3min 49sec (from 1min50sec for a low dosage to 7min20sec for high dosage with solvent withdraw needed).
As a second step, the availability of solvent glass vials for reconstitution/dilution allowed the preparation of lyophilisates difficult to reconstitute (e.g. Cyclophosphamide and Ifosfamide) and infusors. Optimal compounding duration has still to be assessed for these preparations and particularly for lyophilisates according to the sequence followed (reconstitution/preparation).
Air and surfaces microbiological controls are conducted each week in the loading and preparation areas. 30 minutes are needed for the daily cleaning of the robot.
Discussion-Conclusion
The development of an interface between the software managing the robot and the computerized prescribing software will optimize our current organization. Based on the significant added-value in terms of productivity, security and quality following the introduction of this robot, a second robot will be introduced soon.
Watch the video in simultaneous translation