European Resolution on good reconstitution practices -improving patient safety by risk control of parenterals (injectable medicines)
6 October 2017
Dr A. Beaney1, Dr P. Le Brun2
1 Quality Assurance Specialist Pharmacist, University of Sunderland, Newcastle upon Tyne, Royaume Uni
2 Quality Assurance Pharmacist/Qualified person, Central Hospital Den Haag, Hospital Pharmacy, The Netherlands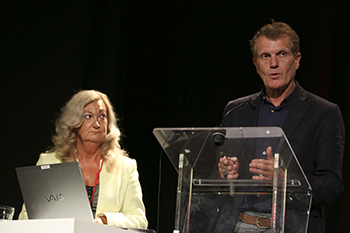 Over the years several incidents associated with morbidity and mortality have been reported due to incorrect composition or contaminated parenterals when prepared in in clinical areas (ward, operating theatre). Therefore, prevention of risks is a high priority in many hospitals.
With a view to preventing health damage in patients caused by incorrect reconstitution, and to provide the responsible national authorities with model approaches for supporting health care management and health professionals involved, a resolution on good reconstitution practices was recently adopted by the Council of Europe: Resolution on Good Reconstitution Practices in Health Care Establishments for Medicinal Products for Parenteral Use:
https://search.coe.int/cm/pages/result_details.aspx?objectid=090000168065c135
The Resolution is meant to guide the health care establishment's decision as to where reconstitution should take place; in a pharmacy or the clinical area. This decision should be based on a risk assessment.
Risk factors for consideration are:
Microbiological contamination e.g. complex reconstitution, product susceptible to microbial growth
Incorrect composition e.g. complex calculation
Is the dosage form of the medicinal product to be reconstituted a powder, lyophilisate, suspension or emulsion?
Does reconstitution involve use of a part vial or ampoule, or use of more than one vial or ampoule?
Is the product cytotoxic?
Does the medicinal product carry a specific therapeutic or pharmacological risk? e.g. insulin, opiates.
An example of a risk assessment is part of the Resolution but, of course, other approaches are allowed as well. It emphasised that a risk management system should be in place in every hospital. This consists of the following:
Risk assessment
Risk reduction and control
Risk acceptance and communication
Risk review
It is important to realise that risks should be evaluated before new parenterals are introduced in your hospital. Typical examples of risk reduction and control are:
Do not make high risk products, e.g. potassium solutions, parenteral nutrition in clinical areas
Make arrangements for provision when pharmacy is closed, e.g. for parenteral nutrition
Minimise the time before administration
Provide pharmacy support to clinical areas
Have an appropriate pharmacy ready- to – use (RTU) / ready-to-administer (RTA) product list (catalogue)
Specify and monitor the quality of any outsourced RTA products
The presenters will conclude that risks should be minimised by pharmacy involvement in the preparation of parenterals in clinical areas e.g. in development of injectable medicines policies, in training or in making available ready-to-administer parenterals.
Watch the video