Development of analytical control for low-volume cytotoxic preparations destinated to pediatric patients
2 October 2014
T. Chouquet, K.Morand, G. Benoît
Hôpital Armand Trousseau, Pharmacie, 26 avenue Arnold-Netter 72012 Paris, France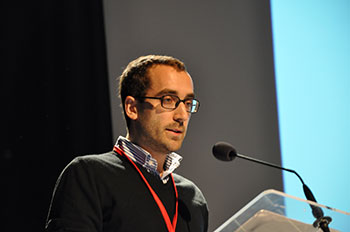 Introduction
Our chemotherapy preparation unit produces 7000 preparations per year for pediatric patients. Regarding the young age of our patients sixty five percent of these preparations are made in syringes or IV-bag with final volumes ranging from 20 to 50mL. The objective of this study is to improve the quality control of these preparations.
Material and Method
The minimal volume of analysis and the precision of 20mL and 50mL syringes being of 1mL, every preparation is overfill with 1mL of solvent which is be sampled after homogenization. The analysis is realized with an UV/RAMAN coupled spectrometer (QCPrep+®). The acceptance limit was set at +/-15 % of the target concentration.
Results
Between march and june 2014, 87% of our production was controlled by analytical method (n=1565). The global rate of conformity was 89.4% (1399/1565). The low volume preparations (IV-bag and syringes) accounted for 70.8 % of the controls (1108/1565). The fraction of the total dose withdrawn from the preparation ranged from 1.96 % (final volume of 50mL) to 4.76% (20mL).
Discussion and Conclusion
The overfill ensures a sufficient volume for the analysis while respecting the final volume of the preparation, not modifying the habits of the nurses. There is no significant difference between the rates of conformities of low volumes preparations (syringe and IV-bag with volume <50 mL) and others IV-bags preparations (volume >50mL): 90.3% vs. 87.2% - p=0.22. Training of pharmacy technicians in sampling and homogenization procedures is essential to improve the conformity rates. However two limits persist: the fraction of the total dose used for the quality control remains high and in case of non-conformity it's impossible to realize a new sampling for a second control.