Development of a simple and robust motorized apparatus designed to minimize the risk of musculo-skeletal disorders: application to the filling of portable infusion pumps
2 October 2013
A. Amin1, C. Violain1, K. Collet1, C. Dupont2, B-L Jaouani3, R. Loeuillet1, L. Simoes1, N. Thromas1, E. Gohier4, P. Bourget1
1 Service de Pharmacie Clinique, HU Necker-Enfants Malades - 149 rue de Sèvres, 75015 Paris, France;
2 HU Cochin - 27 rue du Faubourg Saint-Jacques, 75014 Paris, France ;
3 Cabinet d'HAD Vicene-Paris Transpatient - 268 rue de Charenton, 75012 Paris, France ;
4 JCE Biotechnology - Bioparc Vichy BP7, 03270 Hauterive, France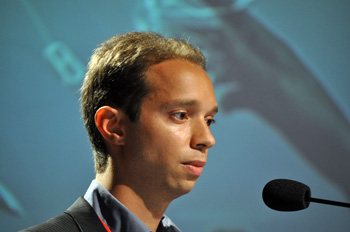 Background
Musculo-skeletal Disorders (MSD) are regarded as a serious occupational health problem; they are causing human suffering, numerous functional deficits, and a serious economic damage. In hospital and non-hospital care; shaping activities are frequent and repetitive, that lead to well-documented MSD, and involve awkward postures. Among painful or tiring positions; the shaping of portable infusion pumps (PIPs) is often cited. The aim of this work was to develop a motorized apparatus, able to cope with the identified problem.
Methods
The technical development is the product of an hospital-industrial cooperation. A project management methodology has been used:
a) identify needs of health professional;
b) identify issues and resources to be mobilized;
c) draft the specifications;
d) write a business plan;
e) a design stage;
f) build the virtual prototype P0 using a CAD software;
g) produce the prototype P1;
h) assess and optimize P1 in actual conditions (experienced operators);
i) cross-analysis and active feedback;
j) build of a fully operational version P2.
All along the assessment stage, several models of PIPs were filled and tested.
Results
The apparatus is compact, lightweight, robust, easy to transport; its use is intuitive and no captive consumables are required. The range of application does not only concern PIPs; it can also be used for the filling of soft bags and PCA pumps. We present a video of a PIP (Baxter, LV10, 230 mL final volume) filled with a solution of ceftazidime; the average processing time is of about 4 min.
Conclusion
This concurrent engineering project was carried out in 18 months; the new apparatus was called Hedfill®. A version with rechargeable battery is also being developed. We believe that the issue of MSD, caused by the shaping of PIPs, is largely solved by this new solution.