Workshop 1 : Isolator validation for hospital pharmacy preparation
7 October 2015
Modérateurs : F. Sadeghipour1, P. Hild2, D. Meyer3
1 Pharmacien, Chef de service CHUV, Lausanne
2 PH Pharmacien, Chef de Service Roanne
3 Expert micro-environnements - DMcompliance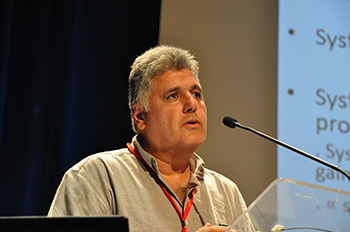 In order to ensure the final quality of the injectable preparations, it is important that each pharmacist and their colleagues involved in the use of this type of equipment have mastered the initial qualifications and periodic validations. These qualifications include the Design qualification (QC), Installation qualification (IQ), Operational qualification (OQ) and Performance qualification (QP) of the isolator and its sterilization device. Each qualification must be described in detail during the training and its various aspects should be discussed to better understand the issues and their importance to ensure proper operation and quality in routine.
The Design Qualification is a key element in the acquisition of an isolator. The main points of the specifications that will involve the purchase and therefore the technical requirements, the preparation of the implementation of the equipment, including the future location and its technical installation issues must be addressed.
The usefulness of the factory acceptance test, all the audited items and the importance of corrective actions before delivery must be explained. The on-site qualification, the reception of the isolator, through both installation and operational qualifications to verify the correspondence of the product to the specifications are detailed. An understanding of the Performance qualification, including the microbiological validation of the enclosure, in accordance with the routine use of the isolator allows a better understanding of the future training of operators. Discussions between participants on their experience and any comment addressed during inspections or audits will also be part of the learning tools.