Water micropollutants in Bordeaux area: Strategy for reducing the contamination in an urban territory
8 October 2015
D. Granger
Project manager, SUEZ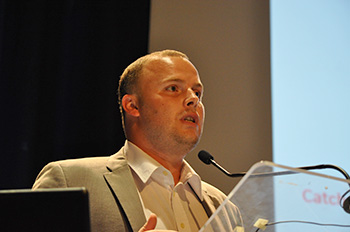 With an estimation of 75% of the population who will live in towns in 2020s, the consequences of the increase of urbanization and anthropogenic activities are a major issue for the decades ahead. The concentration of the population and industrial and urban activities are responsible for a major pressure on the environment caused by urban outlets. The evolution of our life style and living standards will lead to an increase of micropollutants and active substances. Knowing the origin and impact of micropollutants is a major challenge if we aim to control and to reduce flows and to make cities and territories more sustainable and safer.
In this context, Bordeaux Metropolis and LyRE/Suez environment have implemented the "micropollutants project" for a period of 6 years. This project is an overall reflection process that addresses the issue of water pollution in general, from the source of pollution to the environment. This project is composed of two phases. The first phase (2013-2015) is to characterize and to quantify the micropollutants in the sewer system of Bordeaux Metropolis. This phase should also identify and understand the origins of emissions to propose suitable reduction levers according with sources. The second phase (2016-2018) will initiate the development of micropollutants reduction solutions on territory and to monitor the actions.
The purpose of this communication is to present methodology used in phase 1, to help decision makers to characterize the problematics substances on its territory and to identify the main sources of these pollutants.
Keywords: Micropollutants, methodology, source reduction, integrated management, catchment area, PNEC.