Virtual reality. A solution for training in hospital pharmacy
6 October 2017
G. Ebelmann , S. Moudni
WhiteQuest, Erstein, France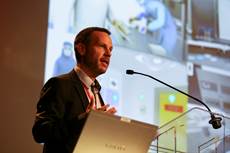 The preparation of medicines in hospital pharmacy is a very delicate activity, both for the patients to whom the medicament (anticancer agents, parenteral solutions, eye drops, etc...) are produced and for the person (the manipulator) who handle those products which are in certain cases toxic.
In order to achieve effective professional gestures, the manipulator must acquire knowledge and skills at the same time in the topics of preparation procedures, work environment (flow of materials and people), maintenance procedures, etc... That, in a constraining environment in terms of procedures, logistics and time.
The training for the manipulator is very difficult because of limited material resources for learning and their cost; Because of the unavailability of staff who, under a heavy workload, focus more in the production instead of the training; And because of the cost of raw materials, which has to be destroyed in the case the novice realise some mistake during the preparation.
These are the reasons why GERPAC, the College of Health of the University of Bordeaux and the company WhiteQuest have engaged themselves in a partnership. After designing and developing the first cleanroom simulator, already announced on the occasion of the 2015 edition of GERPAC, WhiteQuest joined this new consortium in order to work on a simulator (or a Serious Game) of Hospital Pharmacy allowing the training and, by then, the knowledge and skills development, according to three approaches:
tutoring or step-by-step guidance for the realisation of procedures;
a semi-guided exploration followed by feedbacks in real time;
thematic educational contents designed to give meaning to work practices and constraints.
The virtual environment offers the possibility of training on fundamental themes such as dressing, disinfection and cleaning of objects and surfaces, maintenance and use of machines, preparation in cleanrooms and in A class, treatment waste, etc...
Based on the concept of "learning by doing", this simulator is adapted to the initial and continuous training (re-qualifications) of manipulators in hospital pharmacy.
The next step in the project is to measure the effectiveness of this training in terms of skills development. In order to do that, we will build a rigorous protocol for harvesting and analyzing data both in vitro and in vivo.
Watch the video in simultaneous translation