Video recording for quality control of cytotoxic preparations
5 October 2010
B. Le Franc, B. Dalifard, E. Griesemann, J.P. Cante
Pharmacie URC, Centre Hospitalier, La Rochelle, France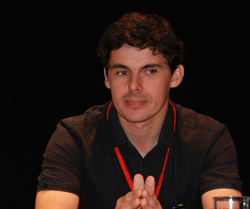 Video recording can be an effective alternative for quality control for cytotoxics and presents a number of advantages over analytical verification techniques (simplicity, reproducibility, exhaustivity, integrity of the prepared dose, total absence of cytotoxic effluents) [1].
However, although the concept is now established, the integration of video into the workload may prove difficult, because the operator has to visualize the whole recording to release the preparation. If no improvement were made it would take two minutes to completely check each preparation.
It is therefore essential to simplify the check by automating recognition of the critical stages in the manufacturing process.
A partnership was set up between the hospital centre and the university to devise a computer-based solution which facilitates the preparation of cytotoxics and checks for release of the preparation. The solution will make it possible to analyse the manufacturing process qualitatively and quantitatively by means of image processing techniques. Automating the checks of certain critical stages of manufacture will allow the method to be introduced readily into our current working practices.
[1] Gerpac 2009