Validation of the BacT/Alert® method for microbiological control of pediatric parenteral nutrition (PPN) mixtures
8 October 2015
C. Le Roy1, E. Bermudez1, N. Carre1, C. Chanat1, C. Castelain1, H. Poutet2, M.L. Brunet1, F. Chastv
1 Pharmacy department
2 Bacteriology department
Hôpitaux Universitaires Paris Centre Cochin Broca Hôtel-Dieu,
27 rue du Faubourg-Saint-Jacques, 75014 Paris, France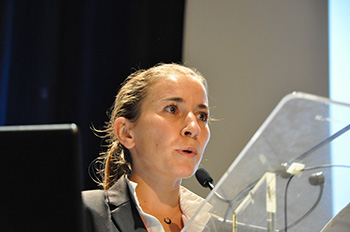 Introduction
The PPN unit daily prepares a bag of binary mixture (BM) representative of the batch to perform a sterility test (ST). Our study aims to compare, by an applicability assay (AA), the efficiency of the membrane filtration ST (Steritest®), recommended by the European Pharmacopoeia (EP), to an automated microbial detection system (BacT/Alert®).
Material & methods
According to the EP, an AA is performed: 5 CFUs per microorganism (S. aureus, B. subtilis, P. aeruginosa, C. sporogenes, C. albicans and A. brasiliensis) are seeded in 3 sample pairs after transfer of the BM. For the Steritest® method, 50 ml of the BM are filtered per canister pair and then incubated in thioglycolate and soybean casein media. Whereas for the BacT/Alert® method, 3 ml of the BM are injected into the aerobic environment and 4 ml in the anaerobic one. All the Steritest® canisters are daily read visually, while the BacT/Alert® vials are automatically read every 10 min. The samples are incubated for 5 days. After positivation of vials, germs are isolated on agar and identified by MALDI-TOF mass spectrometry.
Results & discussion
Over the 5 days of incubation recommended by the EP, the 2 techniques confirm the positivity of all the expected positive samples. Isolation and identification of microorganisms confirm the absence of cross contamination. The BacT/Alert® method results in a much faster execution time and requires less material. The automated vial reading is associated with an alarm tripping in case of positive vial.
Conclusion
The BacT/Alert® method is chosen for daily ST. In conformity to the EP, ST is realized starting from a 150 ml BM bag, from which 21 ml are distributed in 3 pairs of vials: 3 ml in the aerobic environment and 4 ml in the anaerobic one. The 14 days of incubation are respected.