4 October 2018
Helin-Tanninen
Minna (Kuopio University Hospital, Kuopio, Finland)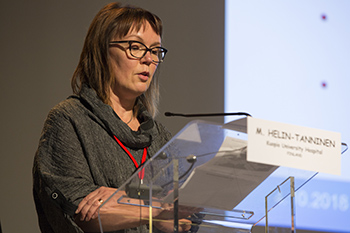 The European formulary for extemporaneous formulations of paediatric medicines has been launched by the European Committee on Pharmaceuticals and Pharmaceutical Care (CD-P-PH) and the European Pharmacopoeia Commission. Criteria for inclusion and evaluation of formulations of appropriate quality were adopted at the end of 2015.
The aim of the European Paediatric Formulary is to collect together the most appropriate formulations currently described in national formularies, or otherwise well established in European countries, and then to provide formulation monographs to clinicians and pharmacists when no licensed product is available.
Formulations available in individual countries have been provided by the member states. Prioritisation, selection and transfer to a common format are being performed by a dedicated working party with 17 experts from hospital pharmacies, academia and national authorities from 14 European countries.
Initially, APIs have been prioritised based on paediatric needs published by the EMA Paediatric Committee. In a second step, the formulations available for a specific API of high priority are screened and a final selection is made. Inclusion criteria include therapeutic relevance and clinical justification of the formulation, as well as quality criteria. The online formulary will start with a limited number of formulations and will then subsequently be extended.
Prioritisation according to a need has been partially completed. Further, the first two pilot monographs, hydrochlorothiazide 0.5 mg/ml oral solution and sotalol 20 mg/ml oral solution, are in the final drafting phase. Further the working party is currently elaborating 8 other monographs. All monographs will be made available for public consultation by the EDQM before their finalisation to encourage feedback from all stakeholders. The first two monographs are foreseen to be published in October 2018.
The project is still in its infancy and relies heavily on the information available. With input from all stakeholders, the final formulary will in future fulfil its aims: to be an easily accessible online tool with a collection of appropriate formulations that supports its users and promotes the safe medication of children when no licensed alternative is available.
Acknowledgements: Leutner, Dirk and Capasso, Filippo (EDQM/Council of Europe, Strasbourg, France), Breitkreutz, Jörg (Heinrich-Heine-Universität, Düsseldorf, Germany)
Watch the video in simultaneous translation