The benefits of automation of the preparation of anti-cancer medicines
9 October 2010
M. Bay, E. Chasseuil, A. Dupuis, I. Princet
Pharmacie du CHU Poitiers, France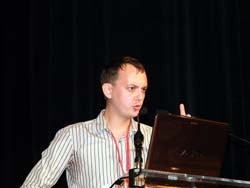 The inauguration of a Regional Oncology Centre provided the opportunity to review the organisation of our Cytotoxic Reconstitution Unit (CRU) and consider the automation of anti-cancer drug preparation. With this in mind, we compared the performance of the CytocareTM automated system against the results obtained from the manual process in terms of operator safety, quality of preparation and speed of production. The data relating to CytocareTM comes from the manufacturer. We compared them to the data observed in our CRU and that given for manual systems in the existing literature.
Using CytocareTM allows us to avoid the risk of accidents, and limit the exposure of preparation technicians to cytotoxic products. Studies conducted in partnership with CytocareTM did not detect any environmental contamination, but the results are debatable.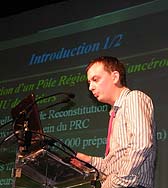 The level of precision obtained with CytocareTM (<5% error margin) is better than that generally achieved with manual preparation (below 10%). The monitoring tests carried out with CytocareTM production (video monitoring of medicines, solvent data matrices, gravimetric analysis of the preparations, bar codes on the final labels) offer a level of security which is at least equivalent to that of the best existing manual processes.
The average speed of CytocareTM varies between single and triple depending upon the preparation. Similarly, the speed of manual preparation depends upon the type of organisation and the tests conducted. However, in comparable conditions, automation seems to offer real, if currently limited, gains in productivity.
But in terms of safety and quality of the prepared products, the benefits of the CytocareTM system are undeniable. It if for this reason that we have decided upon automation of the majority (80%) of production in our new CRU, particularly since the potential margin of productivity increase with CytocareTM seems considerable.
Diapos-Apports de l'automatisation