Stability of a 5 mg/ml imipenem-cilastatin eyes drop
4 October 2012
Mathilde Grande, Sophie Potin, Marie-Laure Brandely, Laurence Labat, Rui Batista, François Chast
Service de pharmacie
Hôpitaux Universitaires Paris Centre, AP-HP,
1 place du Parvis Notre-Dame, 75004 Paris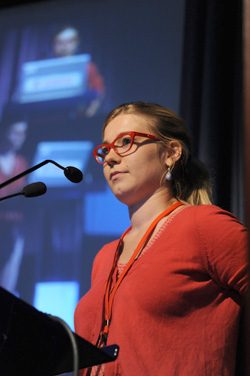 The 5 mg/ml imipenem-cilastatin eyes drop manufactured in hospital pharmacy are stored 3 days at a temperature between 2°C to 8°C. The aim of this study was to determine a process to improve the shelf life of this eyes drop.
Materials and Methods
Validation of the analytical method: A high performance liquid chromatography (HPLC) method using ultraviolet detection at 298 nm has been developed for determination of imipenem concentrations. Separation was achieved on a C18 column (Hypersil® BDS 250×4.6mm; 5µm). Mobile phase composed of a phosphate buffer (KH2PO4 7M pH 7.30) and acétonitril 99.7/0.3 (v/v).
Study of products degradation: search for degradation products of imipenem with H2O2 3%, NaOH 1N, HCl 1N at 60°C.
Study of real-time stability: Three lots of eye drops were prepared from imipenem/cilastatin 500mg/500mg Mylan® in a sterile isolator under pressure. The stability of imipenem was assessed under three storage conditions: between 2°C and 8°C, -20°C, -80°C. The parameters studied were the visual aspect (colour and particulate matter), osmolality, pH and concentration of imipenem at Day 3, Day 7, Day 14, Day 21, Day 30 and at Day x+1 and Day x+3 after a defrost and conservation between 2°C and 8°C.
Results
The method of determination of imipenem was validated according to ICH guideline Q2 (R1). A linear response was observed from 0.02 to 0.2 mg/mL (r²>0.999). Intra- and interday validation studies showed accuracy between 98,9% and 99,4% and precision below 5.5%. Products degradation under forced conditions were detected. Eye drops can't be used up to three days when they were kept between 2°C and 8°C, and at -20°C. They are stable one month at -80°C, but only one day after defrost. Loss of active ingredient is correlated with occurring yellow color. The initial pH decreases over time, osmolality remains unchanged.
Conclusion
The analytical method developed allows routine assay of imipenem and detects degradation products. The organization of production is incompatible with these terms of conservation. We focus on the use of the well-known doripenem for a better stability.