Stability of 25 mg/mL 5-azacitidine suspensions kept in fridge after freezing
9 October 2015
C. Balouzet, C. Chanat, M. Jobard, M-L. Brandely-Piat, F. Chast
Service de Pharmacie, GH Hôpitaux Universitaires Paris Centre
Site Hôtel Dieu, 1 place du Parvis Notre-Dame
75004 Paris, France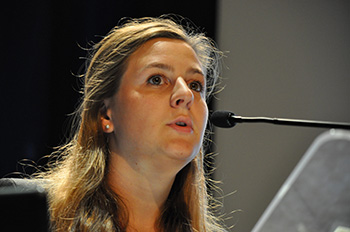 5-azacitidine (5-AZA) is supplied as a lyophilized powder reconstituted with sterile water for injection. This molecule is very unstable in aqueous medium (temperature-dependant process). The advance preparation and leftover management are made complicated by this poor stability. This study evaluates the stability of 25 mg/mL 5-azacitidine suspensions kept 1 month at -20°C, then 5 days at 2-8°C.
Three lots of 7 polypropylene syringes were filled with 2 mL of Vidaza® (Celgene) reconstituted with cold sterile water for injection: 6 syringes by batch were stored at -20°C, the 7th is immediately analysed. After one month, the 6 syringes left were defrosted at room temperature (20 minutes) and then put in the fridge. Experimental points were defined as follow: preparation day (Dfab), defrosting day (D0) and every 24 hours for 5 days (from D1 to D5). Several analyses were carried out: visual inspections, microscopic observations of crystal shape, turbidity measurements (using UV-visible spectrophotometry at 550 nm) and UV-HPLC analysis (validated stability-indicating method adapted from Harting et al). The stability limit is fixed with the loss of 5% of the initial concentration.
At D0, after 1 month at -20°C, the syringes' volume has extended (about +0.1 mL, being +5%) and there is a phase separation, reversible by strong agitation. From a microscopic point of view, larger crystals were observed at D5 than at D0. Concerning the content, there is a mean loss of 4.5% at D3, 6.3% at D4 and 8.3% at D5.
Freezing efficiently prevents 5-AZA from degradation. Advance preparation of 25 mg/mL 5-AZA syringes can be made if immediately frozen at -20°C and then stored at 2-8°C for 3 days.