Session 6: Escape game in production: get caught up in the game!
3 October 2019
Alexandra Garnier, Lucie Bouchoud, Pascal Bonnabry
Pharmacy, Geneva University Hospitals (HUG), Geneva, Switzerland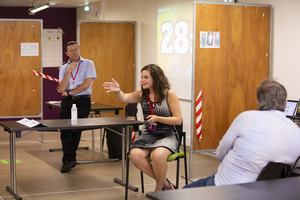 The objective of this workshop will be to learn about good practices of simulation in health by alternating theory from HAS guidelines and practice with an escape game. To start, the three steps of a simulation session (briefing, scenario flow and debriefing) will be reminded. Then, inspired by a project performed at the Geneva University Hospitals, two participants will be invited to play the learners. Helped by the public, who will provide them with clues throughout their journey, they will have to prepare a (fake) chemotherapy bag in less than thirty minutes. All workshop participants will be encouraged to answer riddles on good manufacturing practices to help them moving forward. The debriefing in three steps (reactions, analysis and synthesis) will focus on the type of enigmas proposed and the different ways to conduct the debriefing according to the expected result. A presentation of the results obtained in Geneva, in figures and in images, will complete this workshop which invites to think on the theme of simulation and its application under the form of an escape game in the field of production.