Session 4: Designing an installation for manufacturing ATMPs
3 October 2019
C. Bernard, University Hospital Pitié-Salpêtrière, Paris, Paris
J. Hargreaves, JHAC Nassigny
C. Pernot, University Hospital Dijon
P. Mureau, University Hospital Dijon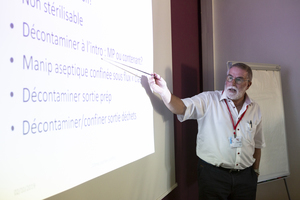 With the arrival of CAR-T cells - two FDA marketing authorizations followed by EMA authorizations during the summer of 2018 - ATMP are no longer potential drugs expected sometime in the future. Now, they are part of the therapeutic arsenal for everyday use.
These new drugs have novel characteristics for the hospital pharmacist. Broadly speaking, they can be split into two categories:
Medicines consisting of tissues and / or cells or not;
Drugs that are GMOs or not;
This split implies two sets of issues:
The first is to avoid cross-contamination, microbiological contamination and possible mix-ups for donors and recipients;
The second is the containment of GMOs.
While hospital pharmacists are familiar with the former, especially with regard to cross-contamination and microbiological contamination, there are specificities in the manipulation of tissue-based and / or cell-based medicinal products which impose special constraints and additional requirements. Working with GMOs also requires some adaptation, and hospital pharmacists are less familiar with this latter aspect.
Today, hospital pharmacist have to be ready to organize manufacture of ATMP, whether for "reconstitution" (as per chap 16 of the ATMP GMP) of a medicinal product already out in the market, or production in the course of a clinical trial.
The aim of this workshop is to go through the process of drawing up a User Requirement Specification (URS), focusing on the facilities and equipment requirements, for "ATMP Manufacturing". This will involve analysing the various regulatory, category-specific and technical challenges, to produce a URS which will be the touchstone for the institution in making decisions on technical and financial viability of a project.