Session 4: Creating learning tools to train operators in cytotoxic preparation units using quizzes, card games and video
3 October 2018
Dr P. Rohrbach, Verdun St Mihiel Hospital, France
Dr C. Nowak, Angoulême Hospital, France
Dr G. Bouguéon, University Hospital Bordeaux, France
Dr S. Rodier, Alençon Hospital, France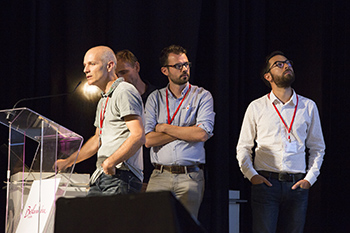 The training of operators in isotechny who must meet regulatory obligations is part of a constantly evolving context (new therapies, automation and robotisation of production processes…). This situation requires turning to new methods from information and communication technologies implemented by many institutions to better convey knowledge while allowing operators to be involved in their own training.
During this workshop, we will focus more specifically on the preferred learning styles of adults namely active experimentation and reflective observation by discovering these learning techniques developed on different media:
paper: Pack of UCPC (Centralised Chemotherapy Preparation Unit) operator cards
computer media: dynamic and interactive quizzes (Quizzes GERPAC)
digital tools: serious games based on learning experiences in a realistic immersive environment (videos, 360°); SimUPAC 360° (ADIPh) and LabQuest (WhiteQuest company).
Based on the different presentations, we will discuss the strengths and limitations of these new teaching tools.