Session 3: Preparation of automated doses dispensing : quality policy
6 October 2017
Dr S. Armand1, Dr A. Chevallier2, Dr C. Perrin3, Dr L. Perello4, R. Vial5
1 CESAME, Angers, France,
2 Hôpital Broca, Paris, France,
3 CH Aix-en-Provence,
4 CDRS, Colmar, France,
5 Arrow, Lyon, France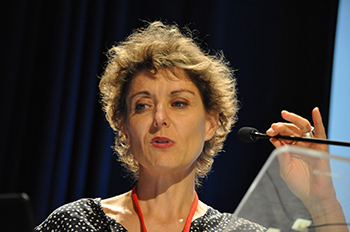 The number of automated drug dispensing system used to prepare the drugs to be administered to the patients (Medication preparation process or MPP) is steadily increasing in France; thus substantially improving the security of the medication circuit.
The Hospital of Aix en Provence was precursory in France in the automation of the production of solid oral unit forms (and later of others forms of drugs). Dr. Cécile PERRIN, pharmacist, expert will come to share with us her experience and present how they have optimized their process.
Often, a necessary preliminary step for the automatons is that of obtaining the drug specialties of dry oral forms in bulk or that of unpacking the drugs. Although this step is a crucial stage it represents a significant brake for the French hospital pharmacists. At the European level; it thus seems interesting to examine whether we all face the same difficulties. Is the legal context in which our European colleagues work comparable? Do they access drugs in larger "bulks"? Do they have reliable data over the durations of stability of these drugs in bottle-bulk after opening? Can one imagine a consistent European regulation? Dr. Laurent PERELLO, pharmacist, hospital practitioner of the Grouping of Medical Co-operation of Fecht, will offer us brief responses to these interrogations.
Hospital pharmacists must guarantee the proper conservation and the integrity of the drugs they dispense after a repacking; and this engages their responsibility. They must cope at the same time with a chronic deficit of information on this subject and with the difficulties of getting them near the pharmaceutical laboratories (often calling upon the confidentiality related to the trade secret). Dr. Romain VIAL, pharmacist, Director of the Business Unit Hospital in the Arrow laboratories will come to give us his point of view of professional of the pharmaceutical industry.He will suggest a path to lighten and even simplify, our decision-making in our common practices. He will also present us how, a pharmacist responsible for MPP, will be able to draw up his list of the allowed drugs even without a full access to the industrial data (short and long-term stability) for the drugs.