Session 2 : Quality Management within a unit pharmaceutical technology: Feedback for an ISO certification
6 October 2017
Dr J.M. Canonge, Dr S. Pierrat, Y. Cretu
University Hospital Toulouse, France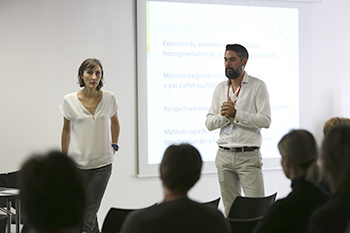 The implementation of a quality management system within a PUI is an integral part of the pharmacist's tasks and pharmacist technician (BBP 2007).
The involvement of non-medical and medical personnel in the writing, editing and changing reference documents (operating manual, procedures, records) is a key element for their adherence to the requirements for this activity but specific to each unit of production.
Upon arrival of a new member in the team, their training includes being based on data written and validated by the whole team to avoid any deviation in the desired expertise and therefore enable repeatability inter agent in the described task. Training should it even be an integral part of the quality management system being described, mapped and evaluated regularly.
The version 2015 of the ISO 9001 introduce, in addition to the elements described above, a strategy and leadership component and a need to measure the risks and opportunities associated with its business. If we consider that this evolution is difficult to implement, integrating these questions of strategy and leadership seems essential to the development of our units.
We propose in this workshop to share our experience as an ISO 9001: V2015 certified unit. We propose to the participants to exchange about a quality management system through evidence promoting the development of a technical unit in order to give everyone the keys to initiate a process of ISO 9001 certification.