Sécurisation du circuit du médicament : bilan d'une interface entre un logiciel de prescription pédiatrique Poséidon et Chimio®
9 October 2010
S. Philippe1, V. Solans1, A. Coquard1, B. Dieu1, J.P. Vannier2
1 Pôle Pharmacie
2 Paediatric Haematology-Oncology department, CHU de Rouen, France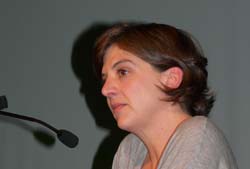 The Paediatric Haematology-Oncology department has developed a software programme for managing overall therapy and the drug prescription process: Poseidon. The hospital's CPU uses the Chimio® programme to validate prescriptions and manage chemotherapy drug fabrication. The centralisation of chemotherapy preparations in the CPU led us to consider replacing Poseidon with Chimio®. However, as Chimio® is not at all adapted to paediatric prescriptions, it was decided that an interface should be created between the two programmes.
This interface has been operational since the summer of 2008, and a performance evaluation was conducted after one year.
In order to make the whole process secure a multidisciplinary approach was taken, working from the Chimio® database. For each protocol, a system requiring double validation (from doctor and pharmacist) was set up. The medical 'chemo approval' is given in Poseidon; the prescription is then automatically transferred to Chimio®. The pharmacist validates the prescription in Chimio® having reviewed the patient's records and the Poseidon entry. It is also possible for the doctor to enter occasional prescriptions outside of the established protocols, and the pharmacist has access to all the bibliographical information required to validate the prescriptions.
Over the first year, the principal problems encountered and resolved were crashing of the interface, managing treatment discrepancies and inpatients in the middle of a course of treatment who transfer to a different therapy programme.
The installation of this interface has allowed us to retain the original medical functions of Poseidon and ensure production security thanks to Chimio®. The existence of this interface allows us to take account of the specificities of paediatric drug prescription and contribute to national reflection on the pooling of protocols and their digital management.
Diapos-Sécurisation du circuit du médicament