Routine detection method for permeation risk assessment of isolator sterilizing agent
6 October 2017
C. Biasolo 1, B. Dessane1, V. Servant1, S. Crauste-Manciet1,2
1 Pharmaceutical Technology Department - University Hospital of Bordeaux (CHU de Bordeaux)
2 ARNA Laboratory, team ChemBioPharm, U1212 INSERM - UMR 5320 CNRS - Bordeaux University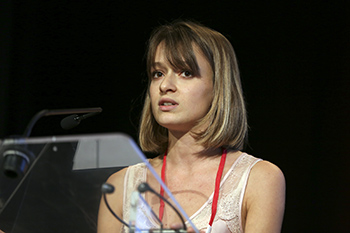 Introduction
Hydrogen peroxide (HP) and peracetic acid (PA) are sterilizing agents used in isolators. These toxic and oxidative agents may spread into the IV solution bags under sterilization conditions. Permeation can also depend on bag's constituting polymers and on the overwrap's removal. In this work, we aim to implement a simple detection method transposable to all reconstitution units.
Materials-Method
Two types of MQuant® strips for liquid media are used after calibration. This semi-quantitative colorimetric method detects HP or PA. 3 bags are tested (n=3): Viaflo®, Baxter (polyolefin/polyamide co-extruded plastic); SLB bag®, SLB Medical (multilayer polypropylene); Rythmic® set, Micrel medical (polyvinyl chloride DHEP free) with (B series) or without (A series) overwrap. Viaflo® and SLB bag® are checked within 2 volumes: 50 and 500mL. For A series, infusion bags are formerly filled with Water For Injection while for B, bags are filled after overwrap's removal. Each series is exposed to a 15 minutes cycle with MDI®, JCE 5%PA and 20%HP. After one exposure, samples are taken at D0, D1, D2, D3 and D15.
Results-Discussion
Strips limit of quantification are 5mg/L for PA and 0,5mg/L for HP. PA isn't detected through any bags. Viaflo® bags seem to be impermeable to agents with or without overwrap. However, HP spreads through SLB bag® and Rythmic® set. Results are presented below:

Overwrap allows reducing permeation close to the limit of quantification but the impact of remaining traces should be considered for potential risks: interaction with drugs and toxicity for patients.
Conclusion
This work confirms the need to assess easily and quickly to the permeation risk of sterilizing agent through infusion containers. As only semi-quantitative method, it can be used as a screening technique for the selection of IV bags.