Productivity assessment of different workflow organizations for sterile preparations by a robot
24 October 2018
J. HELOURY 1, G.BOUGUEON1,2, A.BERRONEAU1, S.CRAUSTE-MANCIET1,2
1 Pharmaceutical Technology Department, Bordeaux University Hospital, France
2 ARNA ChemBioPharm U1212 INSERM – UMR 5320 CNRS, Bordeaux University, France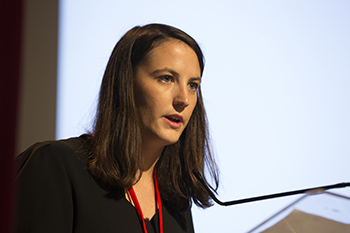 Objective
The objective of this work was to compare different possible workflow organizations to choose the best in term of productivity using a KIRO Oncology® robot able to produce either standardized preparations and patient's adapted preparation.
Material/Methods
A real life "on demand" taylor-made production day (Dref) of monoclonal antibodies and anti-infectious drugs was compared to 2 simulated days of dose standardized and anticipated preparations. The first organization (D1) was performed using single drug, prepared from powder to be reconstituted, at different standardized final doses. The second (D2) was simulating cytotoxic multi-drugs preparations, prepared from ready-to-use solutions at different final standardized doses. The working day was based on one working-time equivalent technician (WTE), including pre and post-processing, without any break during lunch time.
Results- Discussion
The results obtained are presented in Table I.
Table I. Comparison of 3 different workflow organizations
The results obtained with the different workflow organizations showed that the productivity of the robot was dramatically increased when the robot performed standardized preparations from ready to use solution and in a lesser extend from powder forms to be reconstituted. Worst-case condition for productivity was production "on demand" of taylor-made preparations which approximately corresponds to manual daily production by a WTE technician. However, considering automated in-process quality control, all process conditions including taylor-made took great benefit of robotics in comparison to usual human double check.
The production was interrupted by technical incidents during 16min, 4min, 3min for Dref, D1, D2 respectively. The events encountered were: a needle to remove, an air correction, a difficulty to sting in the septum and a problem of syringe recognition. The diversity of the dose-adapted drugs prepared in the taylor-made conditions seemed to have negative impact on the number of incidents encountered and on the duration of process break.
Conclusion
Robotics is great opportunity to help hospital pharmacies to face increasing needs of injectable preparations with inextensible human resources. However, this work highlights the big impact and the need to adapt our organizations to the robotics (and not the opposite) to be able to capitalize on this emerging technology.
Watch the video in simultaneous translation