Pilot project of RFID tags suitable for tracking cancer chemotherapy preparations
9 October 2015
M. Lafay-Bourquin, C. Giard, J. Rambaud, I. Ferry, L. Escalup
Institut Curie - Hôpital René Huguenin, service Pharmacie, 35 rue Dailly
92210 Saint-Cloud, France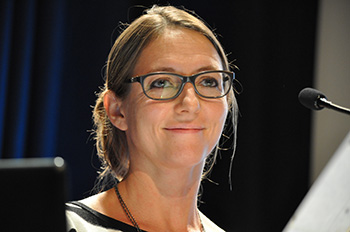 Objective
Within the partnership, Institut Curie -René Huguenin Hospital and Biolog-id developed a pilot system of RFID tags suitable for tracking cancer chemotherapy preparations. Traceability is ensured from preparation to administration.
Method
According to hospital needs, an adapted project has been developed. C-Log®, interfaced with CHIMIO®, is a three modules based solution:
Pharmacy (chip writing during final control),
Delivery (transportation tracking due to RFID tagged container),
Nursing room (dashboard and administration control).
Updated along the circuit, information on the tag is automatically shared with CHIMIO® at each step.
C-log® doesn't need many types of equipment: one lab bench reader, one container reader, wall readers and mobile readers in nursing rooms.
Results
The solution is currently in a test phase for Pharmacy and Transportation modules, and in a development phase with a pilot ward for the « nursing room » module. In order to evaluate the impact of the system, the following performance indicators are being measured: delivery errors, number of problems related phone calls, number of reallocated and discarded products.
Discussion-Conclusion
RFID technology significantly reduces manual input, related errors and delays. Moreover, real time data should allow improvement of the organisation, especially transportation which is currently the main problem identified. The circuit complexity enhances the occurence of errors. Administration errors are rare but may have tragic consequences. A more common occurrence, however, are delivery errors that increase costs and waste time. Against a background of cost control and safety and quality in health care, it is crucial for any technological response to reflect standard practice.