Pharmacy technicians education: an innovative pedagogical tool
4 October 2013
L. Danguy des Déserts, C. Nowak, I. Baudin
Centre Hospitalier d'Angoulême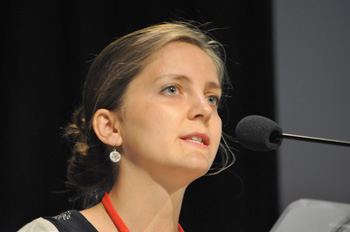 Given the increase in the formation of pharmacy technicians in a cytotoxic preparations unit and the political security of medication, it was desired to develop a pedagogical tool to standardize training by making it interactive and playful.
After evaluation of training needs among pharmacy technicians, it was decided to focus this tool on pharmaceutical preparation and indications of drugs. We took our inspiration from tools developed in therapeutic education, it was decided to move towards a visual, interactive and fun way to facilitate learning.
A set of 37 cards was created incorporing different items which are: the international nonproprietary name, the trade name, the indication as a logo, storage (before and after use), treatment protocols, internal preparation unit mode and additional information (premedication, emergency preparedness, toxicity…).Each card includes the information on the back and the front is in the form of a questionary for self-assessment. A set of rules was established for the collective or individual training.
Pharmacy technicians welcomed this game because of its design and its outgoing originality lectures where attention can sometimes fail. This type of training allows for an overview of the knowledge trough exchanges. In this approach, to improve the training and by taking different elements of the game, we built crossing the drugs and their indications an Excel file so " battle ship". This device provides ongoing training and may be a similar development in e-learning.