Optimisation of the production processes of cytotoxics and chemical decontamination
5 October 2010
P.A. Jolivot1, T. Legrand2, A. Rieutord1, D. Pradeau2, E. Caudron 2, S. Foucher1
1 Pharmacie, Hôpital Antoine Béclère, Clamart, France
2 Laboratoire de Développement Analytique, Agence Générale des Equipements et Produits de Santé, Paris, France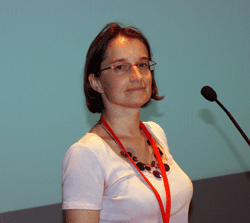 This study consisted of establishing a record of contamination by platinum salts in their preparation under a hood with a laminar air flow and optimising the production and cleaning processes to reduce the contamination.
The mineral platinum (Pt) was quantified by atomic absorption spectrometry (with a detection limit of 2 ng) after swabbing of the surfaces. The first series consisted of preparing 10 bags of Carboplatin by two dispensers. The surfaces tested included each bag, the hood before and after production and after cleaning. The second series was used to assess the pertinence of preventive measures (changing gloves and the field every 45 minutes, flushing the syringes in the bottle of Cpt) by repeating the same production and sampling operations. The aim of the third series was to identify the most effective cleaning product between Surfasafe®, alcohol at 70°, sterile water and Klercide®. For that purpose, 50 µl of Cpt at 10 mg/ml were deposited on a sheet of stainless steel and then sampled in three places including one at the place of the deposit. A total of 132 samples were collected. The first series showed that no trace of Pt was detected in the hood (before and after production and after cleaning), irrespective of the dispenser. The proportion of contaminated bags totalled 90% for the first dispenser (51 to 5900 ng of Pt) and 80% for the second (133 to 5287 ng). The second series revealed 40% of positive bags (7 to 107 ng). The results for the efficacy of the cleaning products are currently being analysed.
Preventive measures enable a reduction in the number of contaminated bags and in the quantity of Pt detected, with a reduction of 96.7% in the mean quantity of Pt. They provide a better control of chemical contamination but have not been validated at the microbiological level. This study enables us to envisage the use of the hood for preparations other than cytotoxics. It is, however, essential to validate the chemical decontamination process by repeating the third series of samples.