Managing cross-contamination for highly potent sterile drugs
9 October 2011
M. Laugier
Development and project director,
CREAPHARM, Riom, France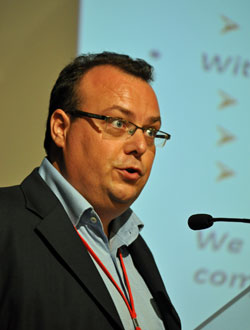 "Increasing progress in medical research combined with the development of molecular synthesis and biosynthesis technologies are leading the pharmaceutical industry to take an interest in more and more effective molecules at ever lower doses.
These molecules considered to be highly active represent an undeniable advantage for the patient and the medical practitioner. However, they prove to be a real challenge for the industrialist.
Oncology, the treatment of metabolic disorders and vaccines are all strongly growing markets when compared with conventional pharmaceutical markets. Growth of 12% per annum is expected over the next few years for cytotoxics as for biopharmaceuticals, while the overall trend in pharmaceuticals world-wide only represents 3 to 6%.
30% of the molecules currently under development are under projects intended, in the longer term, for anti-cancer treatments.
Sterile forms are increasingly present on these markets. They bring with them many advantages for the practitioner in terms of efficacy and are ever better tolerated by patients.
Faced with this new paradigm, the pharmaceutical manufacturing companies working to order have to adapt, this being especially true of those involved in the pharmaceutical and clinical development of these new active compounds.
Not only do they have to consider the implementation of highly technological pharmaceutical products that respect ever more stringent legislative standards, but they also have to confront requirements relating to how these generally toxic products are handled by their workers and the increased risk de of cross-contamination within their production units.
This presentation will thus provide an opportunity to review the legislative requirements and discuss the changes that are emerging in the pharmaceutical industry to cope in managing these risks.
It will shed light on the aspects to be taken into consideration to plan for controlled and safe handling of highly potent products and will develop considerations relating to how cross-contamination is managed, both when it comes to cleaning equipment, how production is organised and team management."