Improvement of the security of batch-preparation of anticancer drugs : implementation of authorities queries
4 October 2012
P. Bardo, M. Gauthier, L. Bisseux, D. Sankhare, L. Benassaia, C. Roux, V. Breteau, P. Faure, I. Madelaine, N. Jourdan
Pharmacie, Hôpital Saint-Louis, AP-HP, Paris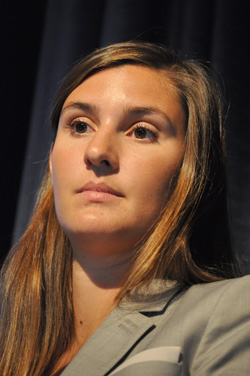 Providing batch-preparation of infusion bags is an option for a more flexible management of workload in an anticancer preparation unit. To that purpose, an addendum to the initial authorization has to be registered by the A.R.S. (Regional Health Agency). To allow the new process, inspectors required the validation of all the steps of production and the unit had to answer to all their queries.
Methods
Eligible molecules were designed (ready-to-use dose, validated shelf lives). Batch worksheets were developed. The new process has been tested and internal procedures written.
Results
The organization has been set for a homogenous preparation of the batches (each batch has to be prepared by the same technician with same equipment and controls). A specific area for preparations "pending release" was dedicated. A dual traceability of the labeling was established (patient file and batch file). The batch worksheets have been standardized using Excel® with secure cells and automatic calculations, sheet and labels. After the visit of the A.R.S., a dual pharmaceutical validation was required for these steps, with critical data locked. Reinforcement of fungal contamination monitoring was also requested. Internal procedures were reviewed with CCLIN in accordance with guidelines (BP, ISO): incubation period was extended to 5 days and monitoring over time of microbiological and particulate contamination to 6 months and 1 year respectively. Special awareness was requested for parametric release of batches that must consider conditions of preparation, analytical controlled concentration and microbiological results for environment and surface.
Discussion / Conclusion
The queries for the additional authorization permitted a validation of the whole process by objective observers and addition of procedures that were not considered at first. The organization is well-running and batch production can be scheduled for less busy time, but we keep on monitoring the process and make improvements.