Identification of 1ml and 3ml syringes by video camera to control drug compounding
9 October 2015
M. Henriquet, E. Fougereau, F. Benizri
Institut Paoli Calmettes,
Marseille, France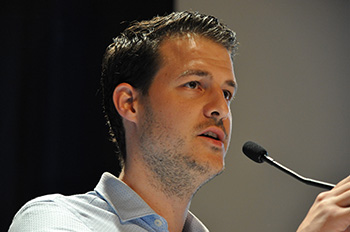 The DrugCam® device offers an innovating approach to monitor injectable preparation of anticancer drugs in real time using an intelligent video system allowing a self-check during process of critical steps, associated to a full video recording of the drug compounding.
The aim of this work is to evaluate the performance of DrugCam® on the quantitative analysis of small sample volumes through 1ml luer and 3ml luer-lock BD® syringes.
Every mark of these 2 syringes was presented 10 times on the video camera to assess the proportion of misidentification. The relative error on volume is then estimated for each mark. Handling was made with or without the isolator's light, to observe the impact of light conditions on detection.
In all, 1010 (101 marks) volumes were presented to the video camera for the 1ml syringe and 310 (31 marks) for the 3ml in the two light conditions. 99 detection errors were observed (3.75%) with 93 for one mark (94%). The relative error on volume observed is lower than 5% in 98.86% of the cases. The relative error is higher than 5% in 3 cases observed on volumes lower than 0,1ml. No difference was observed depending on light conditions.
The results show the reliability and the precision of small volumes detection. Indeed, differences observed stay in the standard deviation range usually tolerated for injectable chemotherapy compounding (±5%) except those observed for a very low volume (< 0.1ml) rarely used, even in pediatric.
Whereas usual control methods are not always applicable to low volumes sampling due to a lack of sensitivity (gravimetry) or a sampling volume limits (analytical), DrugCam® provides a unique solution for real-time and post-manufacturing control of pediatric's syringes and small volume preparations.