Formulation of a 0.1 mg/mL viscous solution of budesonide for the treatment of eosinophilic esophagitis in children
6 October 2017
C. Ey , C. Hosselet, B. Villon, J-M. Dubaele, F. Marçon
CHU d'Amiens, France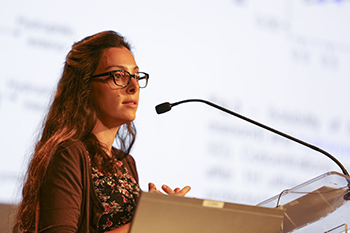 Aim
Despite the lack of dedicated formulation, oral budesonide has been proposed as a first-line treatment for eosinophilic esophagitis in children at the dose ranging from 1 to 2 mg. The aim of this study is to provide a convenient and easy to use pharmaceutical formulation of budesonide 0.1 mg/mL to treat pediatric eosinophilic esophagitis.
Method
Water solubility in presence of ã-cyclodextrin and hydroxypropyl-â-cyclodextrin was measured with an UV spectrophotometer to determine the amount of cyclodextrins needed to solubilize budesonide at the target concentration of 0.1 mg/mL. Then viscosity testing has been performed with a rotational viscometer adding mucoadhesives hydrocolloids to the budesonide solution to obtain a viscosity of around 100 mPa•s. Stability testing was then performed on the final formulation. Samples were placed on climatic chamber, and degradation products and budesonide content were analyzed with the European pharmacopoeia UHPLC-UV method.
Results
With a complexation efficiency 2 times higher than that of hydroxypropyl-â-cyclodextrin, ã-cyclodextrin (2 mg/mL) has been selected for our formulation. Adding 1% of hydroxypropylcellulose provides a viscosity of 100 mPa•s (24°C). Sucralose (0.4 mg/mL) has been added for palatability purpose. Final formulation without preservatives has been sterilized by filtration (0.2 µm, PES membrane) with no loss and is stable for at least 30 days at 24°C and protected from light.
Discussion
Regarding extemporaneous suspensions described in literature, the use of cyclodextrins may enhance efficiency of our formulation as budesonide is readily available for an action on esophagi. As budesonide belong to the class II of the biopharmaceutical classification system, bioavailability may be enhanced by cyclodextrins, although presystemic metabolism greatly limit it. We choose not to add preservatives as it may worsen the esophagitis symptoms.