Formation of particles while preparing infusion bags : case report
2 October 2013
Isabelle Roland, Pierre-François Demeuldre, Gaëtan Van Haren, Yvan Huon
Pharmacie hospitalière CHU Liège,
B4000 Liège, Belgique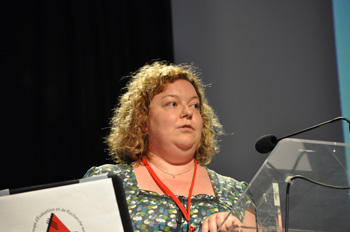 Introduction
On April 2013, the pharmaceutical liberation of a trastuzumab infusion bag was rejected because a « needle » was detected during visual inspection. This translucent and glossy particle was about 1 cm long. During the same work session, three other bags (same diluent, volume and batch) presented the same defect, leading to immediate batch quarantine. An incident complaint was declared to the manufacturer and a drug safety alert was reported to National Health Department. Two days later the manufacturer sent us a microscopic-illustrated analysis of the incident: « the twisted filament found in each bag comes from a scratch generated by the needle used for drug preparation ».
Methods
We duplicate this incident in order to check out this hypothesis. We also tested another model of infusion bags which were used in our compounding unit until January 2012.
Results
Both infusion bags models release particles when a needle scrapes walls of the injection site. Shape and size of those particles vary upon manufacturers and materials. This characteristic considerably affects detectability of this kind of incident during visual inspection controls.
Conclusion
This incident led us:
revisiting our preparation procedures and emphasizing on necessity to maintain the needle in the straight axis of the injection site ;
infusing prepared medicines with an in-line filter ;
diffusing this information widely to make caregivers aware of this risk ;
discussing about implementation of a needle-free preparation procedure.