Evaluation of stock solution manufacturing process campaign of 5-Fluorouracil broadcaster
4 October 2012
J. Fouque, G. Belhabib, B. Verrière, H. Aboudagga, P. Prognon, L. Havard
Service Pharmacie Hôpital Européen Georges Pompidou,
France. 20 rue Leblanc
75908 PARIS Cedex 15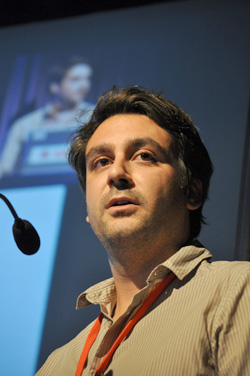 Introduction
Our current sampling process does not permit the analytical control of the broadcasters. In 2011, about 15% of our production consisted in 2 days broadcasters of 5-fluorouracil (5-FU). The standardization of 5-FU doses was locally validated with the medical staff and allows us a production by campaign. The stock solution manufacturing process will permit an analytical control before distribution in every broadcaster. The release of broadcasters will be realized after final weighing. The purpose of this study is to estimate the feasibility in terms of time and chemical contamination of this manufacturing process.
Materials and methods
Eleven technicians simulated the preparation of 5 broadcasters (4300mg 5-FU). Fluorescein 0.1 % vials (100 mL) were used as a replacement of 5-FU vials. The stock solution was prepared in a 500mL sterile empty bag. A transfer device was connected on the empty bag (Multi-Ad®, BBraun). The preparation time was compared with classic preparation and every broadcaster was weighed. The contamination of the table drape (<1cm, 1-2.5cm, >2.5cm) and gloves (< 2mm, 2-5mm, >5mm) was visualized with UV.
Results
The average time of broadcaster preparation was 5.4 ± 0.7 min against 3.6 ± 0.5 min for the classic preparation. No broadcaster was rejected, the average weight was 98.7 ± 1.0g for an acceptability of 99.0 ± 4.95g (5 %). Four contaminations of the table drape (<1mm) and 9 contaminations of gloves (13 tasks <2mm) were identifies including 3 large (confluent tasks >5mm).
Conclusion
The stock solution manufacturing process extends the preparation of broadcaster by 50 % without causing rejection. The UV evaluation revealed significant gloves contaminations, due to the inexperience of handling the transfer device. The stock solution process is possible in our unit because the expected waste of time will be compensated with safety of analytical control.