Evaluation of microbiological contamination of ready to use plastic ampoules
3 October 2013
Michel Deprez, Jérôme Hack, Yvan Huon, Isabelle Roland
Pharmacie hospitalière CHU Liège,
B4000 Liège, Belgique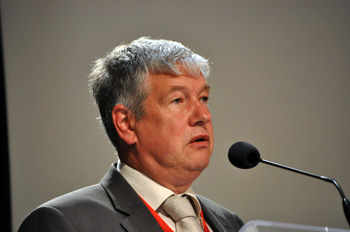 Introduction
The reconstitution of cytotoxic drugs may need the use of diluents at various temperatures (4° to 50°C). In order to maintain NaCl 0.9% plastic ampoules always available at 50°C to prepare medications in a vertical laminar flow hood, Mini-Plasco®(B.Braun) are stored in a thermostated water bath at 65°C. A new ampoule design (marketing of Mini-Plasco® Connect) supposed to secure the solvent withdrawal may cause a drastic change in our manipulation procedures. We therefore conducted an evaluation of microbiological risk related to this practice.
Methods
Swabs were performed on critical surfaces of the ampoules under different conditions: ampoules out of their box, ampoules which had been peeled off before immersion, ampoules which stayed in warm water. The action of the disinfectant solution sprayed on MiniPlasco® was assessed. All samples were incubated on blood agar.
Results
Samples were found positive in each series. The number and nature of germs change depending to the applied measures. However a reliable level of decontamination has not been observed.
Conclusion - Future
Using heated Mini-Plasco® in an aseptic area is a risky procedure. The new product design reduces the risk of accidental sharp injuries and particles contamination but we remain cautious about reducing the risk of microbiological contamination presented by the designer. The easy handling of new packaging should not lead to a risk of sepsis, especially when the ampoule is exposed to an increased contamination risk. As a result of our study, the content of our Mini-Plasco® is still withdrawn with needles.