Evaluation of a quality control's software after 8 months of use
3 October 2014
M. Friou, A. Baudoin, A. Jourand, A. Venet, J. Grellet
UPS Hôpital Pellegrin
CHU de Bordeaux
place Amélie Raba Léon, 33 076 Bordeaux cedex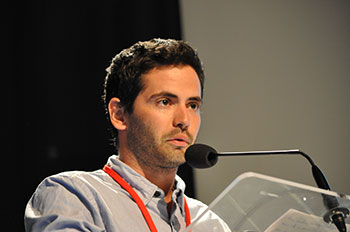 Introduction
A major component of securing the sterile form's production is control. If the problem of quantitative control can be solved by using spectrometric and gravimetric methods, quality control, which includes the evaluation of many criteria, is more difficult to formalize and standardize.
A quality control's software was designed by the sterile preparations unit. After 8 months of production an evaluation of this tool was realized.
Materials and methods
A workgroup composed of a preparator, an intern and a pharmacist was established and defined five evaluation criteria : 1/ Time needed for the tool's training 2/ Time dedicated to testing the tool, 3/Cost, 4/ Number of non-conformities (NC) detected, 5/ Number of adjustment the tool needed during 8 months.
Results
30 minutes of training are required, the average time for a control is 2min30, it does not induce additional costs in personnel or equipment, it detected an average of 61 NC per month which 89% was minor, finally 3 major evolutions of the tool have been developed.
Conclusion
The creation of this tool allows to formalize, standardize and trace quality control. It did not create additional costs, has not disrupted production activity and did not cause a liberation preparation's delay. It allows tracing 28 criteria qualities on all 11 dosage forms produced by the unit. Its use is as an aid to quality management: its position is complementary to the process control. Furthermore integration of reporting non-conformities in the tool allows a team's analysis. Finally, a new development of the software will incorporate the quantitative result.