ETOPOPHOS 170 mg/m2 = ETOPOPHOS 150 mg/m2 ? What's wrong with that ?
3 October 2014
A. Gourlet, H. Martin, J. Scherer, A. Wibaux, V. Moinard, J. Gressier
Pharmacie, Centre Hospitalier de Roubaix,
Bd Lacordaire, France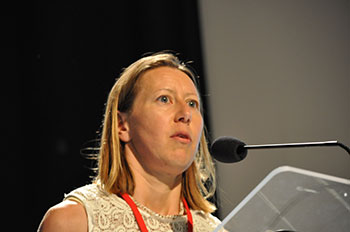 Etoposide exists in two forms : etoposide, and its salt, etoposide phosphate (ETOPOPHOS®). According to the Vidal® monograph, 100 mgs of etoposide are equivalent to 113.6 mgs of etoposide phosphate. This dose expression in 2 different ways generated a medication error at the General Hospital of Roubaix (GHR) at D2 and D3 of ETOPOPHOS® for a young child who had received his D1 in the Reference Center (RC), as part of a clinical trial.
The protocol dosage faxed by the RC is 170 mg/m² of ETOPOPHOS® instead of 150 mg/m² of etoposide as indicated by the promoter's protocol, giving priority to ETOPOPHOS® in young children. The GHR pharmacist decided to call his CR colleague to understand why there is a difference in the data sent for the same protocol. The two centers actually don't express the ETOPOPHOS®'s dosage in the same unit. At the RC, ETOPOPHOS® is expressed in "mgs of etoposide phosphate" whereas at the GHR it is expressed in "mgs of etoposide". In order to have the same dose of ETOPOPHOS® mentionned on the labels of the preparation for the 3 days, the GHR prescriber asked the pharmacist to make the preparations of D2 and D3 with 170 mg/m² of ETOPOPHOS® (expressed in "mgs of etoposide") and not 150 mg/m² as indicated in the protocol, despite the overdose generated (over 10% for the patient).
This medication error, with no clinical consequence, was discussed between the 2 centers but no consensus has been found. To reduce the risk of confusion, the GHR's pharmacists decided to add the words "in mgs of etoposide" after the ETOPOPHOS®'s dose on the preparations' labels. The French National Health Service (ANSM) was informed by both centers of the problem. Will a national consensus be found about the expression's dose of ETOPOPHOS® in an only unit ?