Differences in disinfection protocols of raw material vials intended to the production of parenteral nutrition mixtures
8 October 2015
C. Humbert, C. Cros, F. Nadji, J. Bordenave, G. Benoit
Hôpital Armand Trousseau, 26, avenue du Docteur Arnold-Netter, 75012 Paris, France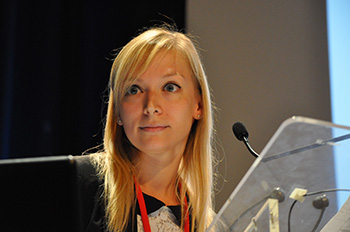 Introduction
Preparation of parenteral nutrition (PN) mixtures is performed in a controlled atmosphere area (CAA) under a laminar flow hood. In 2014 and 2015 quality controls have revealed contaminations of PN bags by Bacillus. The different products used to avoid this contamination were Anios Surf (prewash) ethanol (disinfection) and Aseptanios Terminal (aerosolization). The aim of this study was to test the efficiency disinfection by different products on raw materials vials before introduction in the CAA.
Material and method
5 protocols have been tested by varying the disinfection step: hydrogen peroxide (H2O2) or sodium hypochlorite (immersion or spray), ethanol (non sporicidal) only by immersion. Prewash and aerosolization steps remained unchanged. For each series 30 vials have been prewashed, then disinfected according to the protocol tested, and finally aerosolized ; in order to quantify the effectiveness of disinfection 10 vials were sampled using contact plates at every step of treatment.
Result
Microorganisms were found after ethanol disinfection (4/20) and aerosolization (2/19). No germ was found when hydrogen peroxide or sodium hypochlorite were used. The atmospheric rate of H2O2 were 0.2 ppm by immersion and 0.8 ppm by spray, these values are below the recommended value level (1 ppm).
Discussion Conclusion
This study has permitted to validate, the use and the effectiveness of these disinfecting products. Taking into account efficiency and the handiness for staff, immersion has been preferred to spray and hydrogen peroxide to sodium hypochlorite.