Development of a Letermovir oral solution for anti-cytomegalovirus prophylaxis in children
5 October 2022
C. Devant
, A. Schweitzer-Chaput, P. Marchadour, A-S. Fauqueur, C. Cotteret, S. Cisternino
Pharmacy - University Hospital Necker - Enfants Malades, APHP, Paris Cité University, Paris, France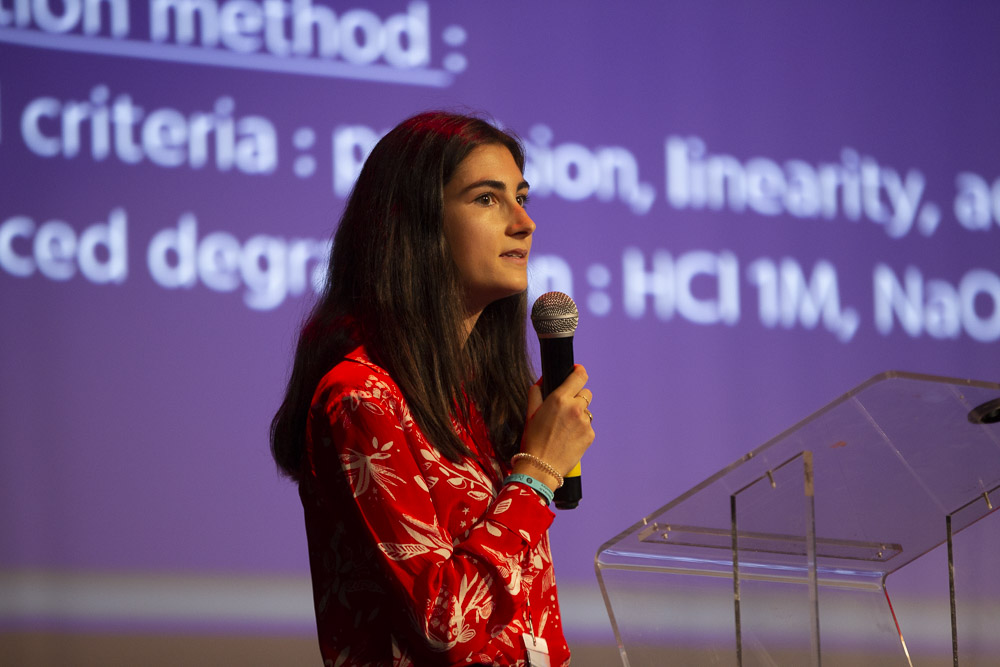 Introduction
Our pediatric immunology-hematology unit takes care of children with congenital immune deficiencies for whom a bone marrow transplant is the only possible curative treatment. For 80 to 90% of cases, this transplant requires anti-cytomegalovirus (CMV) prophylaxis, currently performed with letermovir (LTV; Prevymis®), marketed in injectable and tablet form (480 and 240 mg). This oral speciality is not suitable for pediatrics, therefore capsules are made, adapted to the dosage of each patient, evolving according to his weight. This preparation is time-consuming and cannot be anticipated. Moreover, there is a risk of dose heterogeneity and reprotoxic exposure of LTV for caregivers during administration.
The objective of this work is to find the optimal conditions of LTV solubilization through the formation of a cyclodextrin (CD)-LTV complex to develop an oral solution at a target concentration of 10 mg/mL.
Material and method
A stability-indicating analytical method using reversed-phase high-performance liquid chromatography with a diode-array detector was developed and validated according to the ICH Q2 R1 guidelines. A forced degradation study was also conducted in acid, alkaline and oxidative media at 40°C. A LTV solubilization study was performed to determine the optimal solubilization parameters of a CD-based inclusion complex: type of CDs, stirring time, pH.
Results
The stability-indicating method was linear (R²= 0.99), precise (repeatability <0.3%; intermediate fidelity CV <1%), and accurate (relative error <2% on each control levels). No matrix effects or interferences from degradation products were found; our method is specific.
Inclusion in CDs resulted in a 71% yield. The optimal amount of CDs and pH conditions were defined, allowing to obtain a final solution of 10 mg/mL from a starting suspension (before inclusion) at 15 mg/mL in LTV.
Conclusion
The use of CD allows the complete solubilization of LTV. Optimal preparation conditions are defined and applicable in our pharmacotechnical unit. Subject to the future results of stability, palatability and microbiological preservation studies, the production of this solution as a hospital preparation could be considered to meet patients' needs.