Development of a composite score to decide which hospital service should benefit from the patient-specific automatic unit dose distribution system
3 October 2019
L. Danos1, L. Real1, O. Canon1, I. Patte1
1 Arras's General Hospital, Boulevard Besnier, 62000 Arras, France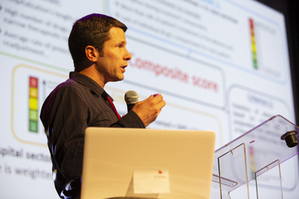 Introduction
Since 2015, Arras's General Hospital is using an automaton ECODEX® for the patient-specific unit dose distribution. Currently, 5 services are equipped with this system: neurology and 4 psychiatry services. Patient-specific automatic unit dose distribution system has to be extended to other services in order to secure even more the drug distribution process and answer demands from the CAQES (Contrat d'Amélioration de la Qualité et de l'Efficience des Soins; contract regarding proper usage of medication and medical devices).
Objective
Define an expansion strategy of the patient-specific automatic unit dose distribution system in our hospital.
Methods
A composite score is created to decide which services are suitable for distribution system. It is based on 4 criteria. Criterion 1: identification of "risky practices" in care services (0 from 5 according to the number of risky practices identified). Criterion 2: inventory of adverse effect based on errors due to preparation and administration of drugs identified from January 2018 to September 2018 (score from 0 to 3, 0 as weak number of identified adverse effects). Criterion 3: establishment of a score named "SIIPS" (Soins Infirmiers Individualisés à la Personne Soignée; count of time dedicated to individual's care) by a specific program software. A score is attributed from 1 to 5 (very low from very high) according to the production care level. Criterion 4: organizational facility for the expansion of the automatic unit dose distribution system (score from 0 to 4). For each criterion, the score is weighted (criteria 1 to 3 double compared to criteria 4) and added to obtain the final composite score.
Results
8 hospital services were under study. The final composite score for pediatrics was 23, for geriatrics 19, for specialty medicine 16, for surgery 12, for cardiology 13, for HDSM (week hospital) 9, for pulmonology 12 and for gastroenterology 8.
Conclusion
The differents criteria of this final composite score include numerous issues for the expansion of the patient-specific automatic unite dose distribution system such as practicability in the pharmacy or needs in terms of reinforcing security of the drug distribution process. The final composite score indicates in which services the system suits best for. Others assessments should be done before each step of the expansion. Indeed, the 2nd criterion seems to have been underestimated because of the notification heterogeneity reported by the different services. A strong communication has been fruitful and it could strengthen the validity of this criterion in our composite score. Finally, determine the score at each step of the system expansion leads to a precise and adapted services choice.
Watch the video in simultaneous translation