Development by Ile-de-France Regional Health Agency (IDF-RHA) of a self-assessment tool, ChimioPREP, to secure production of sterile chemotherapy (cytotoxic and other anticancer drugs)
8 October 2021
F. Lepagnol
, M. Talla, M. Kolski, V. Godinot
Quality, Security, Pharmacy, Drug and Biology Department, Ile de France Regional Health Agency (IDF-RHA)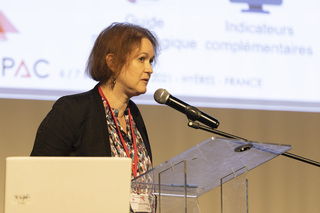 Context / objectives
The implementation of a self-diagnostic tool to carry out a multi-professional self-assessment to secure the production activity of sterile chemotherapy was one of the objectives of the regional project to support "Ile-de France" (IDF) hospitals ; this project took place over the 2019-2020 period by mobilizing 15 hospitals and with the methodological and logistical support of a consulting firm.
This tool, named ChimioPREP, targets hospitals with a cytotoxic preparation unit (CPU). It includes around 300 questions divided into three main sections:
* « Piloting and Management » : quality and hygiene, information system, training, facilities and equipment
* « Process » : the different stages of the preparation process, from prescription to administration ;
* « Cooperation » : process organization between several hospitals (pharmaceutical cooperation) ;
The results of the self-assessment are presented in the "results" tab. At the end of the self-assessment, the tool automatically generates an "action plan" in order to identify the strengths and critical points requiring corrective actions.
Methodology
ChimioPREP was developed by IDF-RHA using operational feedback from the 15 hospitals involved in the regional support project, all profiles combined (public, private, low/high activity,.. ). It also takes into account the regulatory texts (1), the recommendations of scientific societies (2) and an analysis of serious adverse events with anticancer drugs reported to IDF-RHA.
This tool was tested by the 15 hospitals in order to validate its relevance and completeness. This hospitals panel covers a wide range in terms of oncology / hematology specialties, production activity and organizational practices.
Results
ChimioPREP has been published on the IDF-RHA website since July 2020 (https://www.iledefrance.ars.sante.fr/medicaments-anticancereux-qualite-securite-bon-usage).
The tool allows the CPU to have the results of the self-assessment immediately and an « action plan » targeting item by item the questions which did not receive an optimal score for risk control. This « action plan » may concern many areas for improvement. In order to help risk prioritization, the items which may seem non-compliant with the regulatory texts are "highlighted", which allows to target actions that must be implemented without delay and / or to short term.
Conclusion/discussion
ChimioPREP is intended to be used widely by IDF hospitals but also outside the IDF region. In the context of the renewal of hospital pharmacy authorizations (regulatory decree of May 2019), ChimioPREP allows hospitals with a CPU to improve their professional and organizational practices in the field of sterile chemotherapy production.
To complete ChimioPREP, RHA-IDF has developed a medico-economic tool allowing hospitals to analyze the production costs of their chemotherapy activity in relation to quality and safety criteria. This new tool was recently published on the Agency website (July 2021).
We sincerely thank all hospitals involved in the regional project and the team of the consulting firm, especially Aurélien Bouchet and Alaa Redissi
(1) Good Preparation Practices (GPP) (ANSM decision, 2007) ;
(2) Scientific Society SFPO (Société Française de Pharmacie Oncologique), edition N°2 of July 2019