Contribution of the pharmaceutical expertise to the extemporaneous shaping of special catheters for intracerebral injections (ICI) during neurosurgical procedures: application to three clinical trials of gene therapy (GT) in the setting of serious metabolic diseases
7 October 2015
R. Loeuillet1, A. Amin1, C. Violain1, S. Teixeira1, V. Afonso1, N. Thromas1, M. Tardieu3, M. Zerah2, P. Aubourg2, C. Sevin2, T. Baugnon3, R. Crystal4, K. Belahreche1, V. Zaugg1, C. Broissand1, P. Bourget1
1 Service de Pharmacie Clinique, HU Necker-Enfants Malades, Paris, France
2 Service de Neurologie Pédiatrique - Centre de Référence des Leucodystrophies, Hôpital Bicêtre, Paris, France
3 Service Anesthésie-Réanimation-SAMU-SMUR, HU Necker-Enfants Malades, Paris, France
4 Weill Cornell University, Department of Genetic Medicine, New-York, NY, USA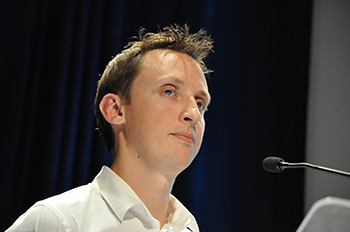 Background
Between 2012 and 2015, 3 clinical trials of GT by ICI were conducted at the UH Necker, aiming to treat young children with metachromatic leukodystrophy or Sanfilippo A and B diseases. These are rare hereditary neurodegenerative diseases (NDD) related to a genetic deficiency of a specific lysosomal enzyme. One major challenge was to transport and directly deliver a viral vector carrying the therapeutic gene into the cerebral parenchyma and cerebellum (as for Sanfilippo B disease). The ICI were performed in 6 or 8 sites in the central nervous system (2 depth levels).
Material and Methods
The injection system that was developed is a thin and flexible catheter (CA), formed by a glass syringe and a needle linked to a silica capillary tube. The stability of the viral vector at room temperature is limited; the aseptic and enclosed filling of 12 to 16 CA was performed extemporaneously during the surgical procedure by experienced operators. In order to reach the targeted depth levels, CA were matched and guided, according to the spatial measurements (with a 1-mm accuracy) provided in real-time by the surgeons.
Results and discussion
The pharmaceutical expertise is the result of:
a) a clinical knowledge, delivered by experts in the field of those diseases,
b) the acquisition and facilitation of specific technical gestures by the operators, allowing for the shaping of the CA in a limited time, e.g. manual handling, aseptic filling of delicate devices, a specific easy-to-handle packaging, a dedicated circuit of delivery,
c) the design of a special tool, devoted to the filling of the CA (cooperation with the JCE company),
d) the use of personal safety equipments, a rigorous biocleaning procedure, a management of uncommon manufacturing wastes. The procedure was endorsed by the surgical team.
Conclusion
Among pioneering advances in the field of TG, the development of ICI techniques is underway and is expected as a major breakthrough in the treatment of inherited NDD. The pharmaceutical expertise contributes to the success of these ambitious technologies.
DOI: None declared