9 October 2011
F. Sadeghipour
Pharmacie des Hôpitaux Universitaires de Genève (HUG),
Genève, Suisse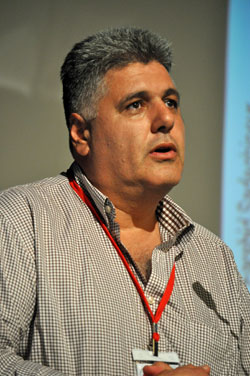 Individualised aseptic preparations have become increasingly widespread in the hospital environment. They follow a complex process based on human reliability, the high frequency of production and reduced opportunities to detect errors. In the case of cytotoxics, neither operator safety nor the increasingly stringent legal environment can be neglected.
In parallel with this, the pharmaceutical industry has widely implemented automation and robotising of the various production processes, making improvements in safety, ensuring greater efficiency and enhanced conformance with the legislation, but also leading to very high costs.
In the field of hospital manufacturing, computerisation only concerned injectable cytostatic preparations, combining prescription modules and preparation protocols, and offering more or less comprehensive traceability. Some systems focused on other extemporaneous preparations, but less often on series productions. The latter are mostly manufactured manually, without computerisation.
Automation and robotising of the preparation have been introduced gradually through systems that are either semi-automatic for the preparation of parenteral feeding (e.g. Baxa®) or automatic allowing for series filling of syringes (e.g. Smartfiller®) or bags (e.g. Pharmahelp®).
Fully robotised systems using different existing technologies are rare with just 3 of them sharing the market and a 4th at the end of development. The machines involved have mainly been designed for the preparation of sterile extemporaneous prescriptions, whether cytostatic or not. They are all highly dependent on human presence, require relatively heavy maintenance and their performance remains dubious. They would probably be better used to prepare small series pre-established doses (dose-banding) for cytostatic preparations rather than individualised, unique or very small series doses under operator surveillance.
Nowadays, the most commonly chosen solutions are semi-automatic and automatic systems that allow for significant savings when it comes to resources and safety. The introduction of additional checks (as with bar codes, RFID and gravimetry) allows inspections during production to be reinforced and the errors inherent in any drug preparation to be reduced. Clearly, these forms of automation demand systematic and stringent qualifications for processes and operators, both from the microbiological perspective and in terms of the content of finished products for them to comply with the specifications of series production in aseptic mode in accordance with the various good practices concerned.
Finally, it needs to be stressed that these new tools must fit in with a well-thought out deployment strategy, involving risk analysis for all processes.